This Ex-Gay Survivor Had an Amazing Courtroom Message for LGBT Teens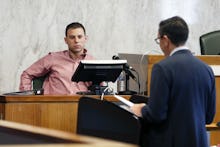 Jersey City, New Jersey — A New Jersey jury has heard the testimony of the first witness in a landmark fraud case brought against a religious nonprofit that offers so-called "conversion therapy" for gay men. Benjamin Unger, a former client of Jews Offering New Alternatives for Healing, accused its most prominent "ex-gay" therapist of collecting shirtless photographs of him after he'd left the practice, and of comparing same-sex attraction to "nonsexual" erections the counselor might get when a young relative sat on his knee. The charges elicited gasps from the courtroom gallery, as well as a bungling denial from the defense.
But perhaps the most surprising aspect of the first day in court was the remarkable poise of the witness in question. Unger, an Orthodox Jewish man from the Borough Park neighborhood in Brooklyn, New York, was 19 years old when his father directed him to JONAH. Unger testified that, despite promises from counselor Alan Downing and JONAH cofounder and codirector Arthur Goldberg that "going from gay to straight is absolutely possible in two to four years," all his treatment did was alienate him from his family and push him into "darkness and despair."
"At one point, I didn't talk to my mother for three months," Unger testified, holding back tears. "It got to the point where I started to become convinced that she was a contributing factor to me having [same-sex attraction] ... I just blamed her."
Despite nearly a year under the influence of Downing and JONAH's discredited practices, however, Unger said, "I'm happy with my life right now. As I've become a healthy gay man, I've realized that everything they told me was a lie." The lawsuit, Unger testified, isn't about money or revenge, but about other gay youth who have been subjected to the same treatment. "People have a right to know what they're getting themselves into," he said.
Broken promises of salvation: The lawsuit, Ferguson vs. JONAH, was brought by Unger and three other men who have accused JONAH and its leaders of deceptive practices in promising them their homosexuality was a mental disorder that could be "cured." According to David Dinielli, the plaintiff's lead attorney, the case isn't about money or freedom of choice but a matter of the truth.
"The program didn't work," said Dinielli, an attorney with the Southern Poverty Law Center, a nonprofit legal advocacy organization specializing in civil rights litigation that has taken the lead on the case. "It uses techniques that are unethical, that can be harmful, and when they don't work, JONAH blames clients for not trying hard enough."
Downing is a vocal proponent of the idea that same-sex attraction is rooted in a so-called "triadic relationship," wherein the formula for homosexual attraction is a distant father, overbearing mother and sensitive child. This neo-Freudian understanding of human sexuality was used to justify what Unger called "the worst thing that happened to me ... on an emotional level" during his time with JONAH.
"I was told to take a pillow and imagine that the pillow was my mother," he testified. "I was handed a tennis racket and told to put it over my head and start beating the pillow while yelling 'Mom.' I had a huge gash, and my hands were actually bleeding."
"I felt violated": During his testimony, Unger described the profound loneliness of feeling attraction to other boys in a religious community where sex was never discussed: "It was torture ... I put on an act almost every day of my life."
When he confessed his feelings to his parents, his father recommended reaching out to Goldberg. Goldberg gave Unger a "sales pitch," Dinielli said — that homosexuality was a treatable mental illness, and that a full third of JONAH's clients experience full "recovery" from "same-sex attractions." All it would take was two to four years of therapy, and thousands of dollars for one-on-one therapy sessions, group sessions and "weekends in the woods" featuring the use of "oranges, handcuffs, baby powder and duct tape," practices that even the defense's attorney called "bizarre."
At first, Unger was elated. "I thought that he was an expert ... and that he actually did help hundreds of people become straight," Unger testified. "I was ecstatic."
But the counseling sessions that Goldberg recommended didn't help — they even began to feel "what I can only describe as creepy," said Unger. Each session with Downing began with a 10- to 12-second bear hug, and often featured lines of questioning or behavior on Downing's part that made Unger profoundly uncomfortable. "There was a point where I was getting a little frustrated, and I was pressing him about [his own same-sex attractions] ... [Downing] did tell me at one point that even he still has attractions to men, and that it's an ongoing thing," he testified.
At one point, Downing pressed on Unger the idea that not all erections were sexual, using an analogy that Unger testified made "no sense" to him. "He compared it to when your nephew sits on your lap and you get an erection," Unger testified. Downing, who was seated in the gallery with his arm around his wife, was expressionless for the duration of Unger's testimony.
"I was told to look at my body, 'feel my masculinity' and then I was told to take a step further, and to take my pants off."
One session with Downing, who does not have a license to practice counseling and describes himself as a "life coach," stood out to Unger. "It was a body-image thing," Unger testified. "He wanted me to experience my body more and to feel more in tune with my masculinity. I was told to walk to a mirror ... with Alan directly behind me. At first I was told to look into the mirror, observe myself a bit, feel my body. Then I was told, 'Let's go a step further.'" Unger was instructed to take off his shirt and undershirt. 
"At one point he put his hands on my shoulder," said Unger. "I literally felt him breathing on my neck. Then I was told to look at my body, 'feel my masculinity' and then I was told to take a step further, and to take my pants off."
Despite pressing from Downing, Unger refused to comply. "I felt violated ... it didn't change my desires for men at all. It made it more confusing." Eventually, Unger left JONAH, but according to evidence submitted Wednesday in front of the jury, Downing's fixation on Unger didn't abate once he left. The plaintiffs' legal team found shirtless photos of Unger, taken more than two years after he left the practice, in Downing's "client files." They'd been lifted from his Facebook account.
"Big deal": In a rambling opening argument that featured tangents about diet scams, Italian argumentativeness and his defendant's previous felony conviction for fraud, defense counsel Charles LiMandri accused the plaintiffs of not trying hard enough, or for long enough, and of being Shanghaied into filing suit by gay activists. Unger's subsequent depression, mental illnesses and body-image issues weren't just not exacerbated by JONAH's "processes," but actually ameliorated. "None of these men were harmed by anything that happened at JONAH,"  LiMandri said.
LiMandri — an attorney with the Freedom of Conscience Defense Fund who on multiple occasions forgot the plaintiff's names or confused testimony — attempted to off the more controversial accusations against Downing. "They're making things up," LiMandri said. "So Mr. Unger took his shirt off — big deal! ... If they continue to have problems, it's because they had them when they came in and they didn't stay long enough."
The argument that the plaintiffs all left JONAH before counseling could "work" was consistent throughout LiMandri's opening arguments and cross-examination of Unger. LiMandri compared the plaintiffs' suit to a hypothetical complaint brought against Weight Watchers by people who quit the dieting program early. "By the way," LiMandri said, "I wanna stop everyone else from going because I don't like all these skinny people making me feel bad."
Unger didn't let JONAH's defense, or its practices, get to him: On the stand, Unger described his relationship with his mother now as "better than ever," and says he is leading a happy, healthy life as a gay man. Unger founded Unshamed, an organization for people battling the stigma of mental health issues. 
"You have nothing to be ashamed of," Unger says in the video announcing the organization's launch. "Struggling with your mental health does not make you any less human than anyone else — it just makes you human, like everyone else."
Although JONAH's therapy pushed Unger to feelings of extreme depression, he testified that all he wanted from the organization was the truth. "I felt like I was being deceived," Unger said. If conversion therapy is "not possible, fine! No hard feelings — just let me know. Tell me it's not possible, so I can move on with my life."