Watch Jon Stewart Take Down the Gross Islamophobia Muslims Experience While Flying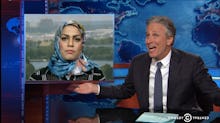 After his epic takedown of how women like Caitlyn Jenner were portrayed in the mainstream media, Daily Show host Jon Stewart took to the air to defend another courageous woman, Tahera Ahmad.
Ahmad, director of interfaith engagement and associate champlain at Northwestern University, had been traveling on a United Airlines flight in May when she was denied an unopened can of soda, supposedly for safety reasons. When Ahmad asked why the man sitting nearby was given an unopened can of beer, the flight attendant allegedly told her, "It's so you don't use it as a weapon."  When Ahmad asked other passengers for support, a man leaned over to her and added, "Yes you know you would use it as a weapon so shut the fuck up."
Stewart wasted no time showing why the reactions of the flight attendant and passenger were entirely reasonable.
To add further context, Stewart was joined by his senior religious correspondent, Hasan Minhaj. Far from an overreaction, Minhaj pointed out the airline's perspective, and how one man's can of soda can be a deadly weapon in the wrong hands. 
At Northwestern, Ahmad is at the forefront of breaking down barriers between faith and culture. Yet stories like hers remain painfully common among Muslim Americans, even more than a decade after 9/11. According to FBI statistics, immediately after the 9/11, hate crimes directed toward Muslims spiked to close to 500 incidents. Previous years, according to the Washington Post, "the program typically recorded between 20 and 30 anti-Muslim hate crimes per year." While the numbers have dropped significantly since, they are still considerably higher than during the 1990s.
Ahmad's story is particularly tragicomic given recent testing that showed the Transportation Security Administration to be all but completely ineffective at stopping actual weapons from being smuggled onto airlines. Undercover investigators from the Department of Homeland Security were able to sneak fake weapons past security in 96% of instances. 
Anyone worried about soda-can bombs should think about that.
The irony of the weaponized soda hysteria while actual weapons can pass freely through airport checkpoints should be lost on no one. As Stewart pointed out, Ahmad's case had nothing to do with security, and everything to do with petty bigotry. And so long as people try to use "safety" as an excuse for hateful racism, nothing is going to be solved.