50 Years Later, Barbie Finally Got the Body-Positive Makeover We've Been Waiting For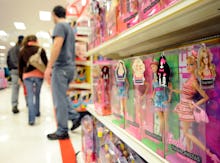 Barbie will finally be able to walk without teeter-tottering on feet that are permanently arched. 
That's thanks to a new line of Barbie dolls called "Barbie Fashionistas," which will feature adjustable ankles that allow the iconic doll to finally have flat feet. 
Yes, like liberated real women everywhere, Barbie can finally say goodbye to her "Barbie feet."
The change hasn't been rolled out to much fanfare by Barbie's maker, Mattel. (Mic reached out to Mattel for comment.) Instead, news outlets and lifelong fans have slowly picked up on the change, which has been evident on Barbie's Instagram (yes, Barbie has her own Insta) for the past several weeks. 
Adjusting Barbie's ankles now allows for more shoe choices for a doll that up until now has pretty much stayed away from flatforms, sandals and sneakers. It's also a significant move to have the 56-year-old doll better reflect the times. As Cosmopolitan reported, the Fashionistas collection is also decidedly more diverse, with "eight different skin tones, 14 different facial sculpts, 18 eye colors, 22 hair styles, and 23 hair colors."
Modernizing the age-old doll is crucial in the face of waning popularity and sliding sales. Barbie has faced growing competition as kid-favorite merchandise from movies like Frozen take a significant a slice of the pie in the toy demographic, according to Fortune. And it doesn't help that, despite adding new careers (Silicon Valley Barbie, anyone?) and trendier clothes, Barbie hasn't changed much in five decades.
Offering more diversity, as well as a painstakingly curated Instagram account, can help Barbie reach the next generation. But freeing her of the tyranny of permanent stilettos might be the most powerful symbolic move. 
After all, the fashion industry and science is finally coming around to the fact that high heels are essentially torture devices that cause major pain and limit physical activity, as a new study in the International Journal of Clinical Practice recently showed.
The question now is whether Mattel has any more changes planned for Barbie. Now that she's not restricted to wearing heels, will we see a more athletic and strong Barbie who reflects the modern, everyday woman? 
Maybe Crossfit Barbie isn't far off.