One Tweet Perfectly Summarizes the Disturbing Way Republicans Mansplain Women's Bodies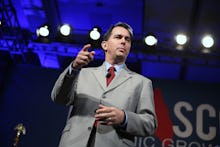 Whether it's the assertion that if the female body endures "legitimate rape," it "shuts that whole thing down," or that rape rarely results in pregnancy, it seems anti-abortion politicians have said some pretty egregious things about women's bodies. Wisconsin Gov. Scott Walker (also a possible 2016 Republican presidential hopeful) is part of this illustrious group. 
Last week, Walker told conservative radio host Dana Loesch that mandatory ultrasound provisions — like the one he signed into law in 2013 mandating ultrasounds for women seeking abortions — were "a cool thing out there" and remarked how people just love showing off ultrasound images on their iPhones, "whether they're pro-life or not."
Now Walker not only expects ultrasound technicians to dissuade women from having an abortion, but intends to codify that expectation into law. On Wednesday, Walker confirmed that he will sign legislation to ban abortions after 20 weeks of pregnancy even without exceptions for rape and incest. The bill in question could require anyone convicted of providing an abortion after 20 weeks to pay a fine of up to $10,000 and receive a prison sentence of 3.5 years, the Guardian reports. 
"I mean, I think for most people who are concerned about that, it's in the initial months where they're most concerned about it," Walker told TV station WKOW of an experience he will never have. "In this case, again, it's an unborn life, it's an unborn child, and that's why we feel strongly about it. I'm prepared to sign it either way that they send it to us."
Sen. Tammy Baldwin (D-Wisc.) perfectly summarized Walker's comments on Wednesday, tweeting that the governor "is now the frontrunner to be the Todd Akin of 2016."
The war against choice: Baldwin's words aren't just dry commentary. She highlights the fact that Walker's support of this bill and the bill itself exemplify growing political support for harsh policies restricting abortion across the United States. In the first quarter of 2015 alone, legislators introduced a whopping 332 provisions that seek to restrict access to abortions services, 53 of which were approved by a legislative chamber and nine of which were enacted, according to the Guttmacher Institute. In the past three years, another Guttmacher Institute report noted, more abortion restrictions were enacted than the entire previous decade.
Yet this legislation is hardly representative of the reality of abortion in America. Most Americans don't feel nearly as strongly as the legislators seeking to restrict their rights, either; nearly 40% of Americans don't have a decisive opinion about abortion. Still, nearly 1 in 3 women in the U.S. will have an abortion in her lifetime. 
Beyond being offensive, Walker's opinions and actions completely ignore the experiences of American women. How they became pregnant or why they want to end their pregnancy is beyond the point: They have the right to do so, and neither Walker nor any of his fellow Republicans should be able to impede that right.
h/t New York