Transgender Tinder Users Are Getting Banned Allegedly Because of Their Gender Identities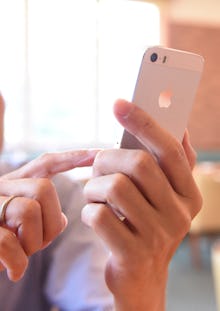 Transgender users of the swipe-happy dating app Tinder are taking to social media because they believe their accounts are being suspended on the basis of their gender identities.
Several have been vocal on Twitter, Tumblr and Reddit, saying their accounts have been reported and subsequently banned by other users they accuse of transphobia. 
Tinder allows users to report other users if they violate their standards. The categories include "inappropriate messages, inappropriate photos, bad offline behavior, feels like spam" and "other." According to the trans users who have been banned, however, nothing about their behavior on the app met those qualifications. 
In April, Twitter user Molly McGlone noted that her account had been reported multiple times; on Wednesday, she said she had been "permabanned" because of these reports.
She explained that she tried to safeguard against it by mentioning her trans identity in her Tinder profile — to "make [people] think they weren't 'trapped'" — but other users kept reporting her account. 
Sister Roma, a well-known drag queen who has been actively involved in the protests against Facebook's "real name" policy, also called out Tinder for its suspension policy:
On Tumblr, the story was the same: 
Sol Solomon, a 20-year-old transgender woman and the author of the post above, said she thought she had been reported by someone with whom she matched and who later read her profile and saw the pronouns she used. 
"I have my pronouns on my Tinder, so I assumed he was just being transphobic," she told Business Insider, which initially reported the issues trans users were having on Tinder. "Right after he matched me, I was reported, which is why I would assume the connection happened."
On Reddit, trans user raine_ posted that "[Tinder is] telling me people have reported me too many times and that my account is under review ... the only reason I could think of that people would report me because I put in my bio that I'm trans (MtF)."
Tinder's response: Rosette Pambakian, Tinder's vice president for corporate communications and branding, told Mic in an email that Tinder is committed to inclusion and is working on making the app better for everyone. 
"The system currently does not permit users to be more specific than 'male' or 'female' when selecting gender and is similarly limited in discovery preferences," she said. "Unfortunately, this can lead to some users reporting other users when they unexpectedly appear in their recommendations."
As for the banned accounts, she noted that each incident is looked at individually. "If we find that a user has been wrongfully banned, then we unban their account. This includes instances when transgender users are reported by others, but haven't violated any of our community standards."
In other words, while accounts can be "unbanned," the possibility still exists that trans users can be reported by other users simply because of their gender identity. Because of the lack of pronouns and gender options — Tinder has only two, compared to Facebook's 58 — trans users may find themselves exposed to the discriminatory attitudes of Tinder users who see the app through the lens of the traditional gender binary.
Despite the assertion that the app is working on ways to promote inclusion, Pambakian didn't include any specifics in her email to Mic. 
Meanwhile, transphobia on Tinder doesn't appear to be a new development: 
In December, Avery Edison wrote about being trans on Tinder for the Guardian, arguing that she was "not a fetish for your sexual bucket list." 
She explained that she planned on keeping her time on Tinder short. "I want to meet some new and interesting friends and potential partners and then delete the app," she wrote, "and all the abuse, the pressure and the worries about whether matches know or care I'm trans that comes with it."
h/t Business Insider