7 Stunning Images Reveal the Beauty That Digital Music Can Never Capture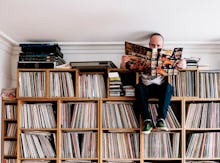 In 2014, 9.2 million records were purchased on vinyl. The equivalent of 476 million records were streamed. Music is no longer a physical medium.
Those numbers reflect a seismic shift in how we relate to our music. Eilon Paz, a Brooklyn-based photographer, set out to document that shift in his book, Dust and Grooves: Adventures in Record Collecting. By glimpsing hardcore record collectors amid their collection, the book explores the relationship collectors cultivate with their vinyl and discusses their lifelong journeys to discover a tangible connection with music. Through photographing his book and interviewing subjects, Paz has discovered some essential truths about the power of vinyl over digital music. 
"Spotify has this pretty amazing way to discover music digitally, but when you have a library of music that is so vast, it dilutes the value," he told Mic. "But if you have a record collection that you invested your time and money in and you got a personal recommendation from a friend or just a stranger in a store, it has much more value and you'll remember it more. And you'll appreciate it more."
"Go out to record stores!" he said. "Instead of buying on eBay or online stores, go out to the record store and browse, feel it, see it. A lot of the sales today are on eBay and that misses a large part of record collecting — the interaction with other people. Much of the fun is about that. Exchanging views and information, trading records. Just go out there."
Here are seven subjects from Paz's book who perfectly capture what we're in danger of losing in the midst of our digital revolution. 
Rich Medina is a Philadelphia-based DJ and spoken word recording artist who has opened for musicians like the Roots, Gil Scott-Heron and De La Soul. 
"Storage space is not the baseline issue when discussing the collection of music; the music and your relationship with that music is the baseline issue," he told Paz. "Records in abundance on any level, or in any format, will get in your way if you are not intimate with them. I just come from the school that says until you've experienced the sonic depth of vinyl on a regular basis, even if just at home alone, you are short-changing yourself on the main attraction at the musical circus."
"Playing vinyl is also a way to nourish and grow our passions," Paz writes. "When we have to get up and flip the record, when we have to move boxes of 12-inches, keep them clean and go digging for the ones we want, we're making everything a little harder on ourselves. It's a mental and a physical workout. It's acknowledging the importance of music and beauty in our lives, acknowledging that they can and should demand our attention. And it's a more rewarding experience when we know we've worked a little harder to get there."
RZA is one of the founding members of Wu-Tang Clan and a pioneer of several hip-hop sampling techniques that influenced modern hip-hop immensely. 
"I remember the thrill of ripping off the plastic, taking the vinyl out of the sleeve and gently placing it on the turntable, making sure not to get any fingerprints on it," he told Paz. "Then, as the record played, I would study the cover and get lost in the liner notes. These were deeply personal, intimate moments with music, and that's something an mp3 just can't duplicate."
The Gaslamp Killer is a Los Angeles-based hip-hop producer and DJ signed to the Flying Lotus record label. 
"Even after the apocalypse, you could still get vegetable oil and run two tables and speakers," he told Paz. "That's what I hope to be doing at the end of the world — spinning all this wonderful music, dancing and being in love. Records are time capsules. They're emotional, spiritual, energetically bound pieces of vinyl. They were cut with force and energy, not by a programmer."
Jeff "Chairman" Mao is a New York-based hip-hop DJ and prolific music writer for the Red Bull Music Academy. 
"Music may provide the soundtrack to one's life," he told Paz. "But records — the physical manifestation of said soundtrack — are of such personal value to us because they provide indelible markers for our experiences. Your record collection is you. You are your record collection. It'll be your mirror, and reflect what you are (in case you don't know)."
Sheila Burgel is a music writer and the editor of Dust and Grooves. She's also a DJ who collects primarily girl group vinyl from the '60s. 
"We are told to believe that the all-access pass to music on the Internet and the quick click of an mp3 have improved our lives, but I don't buy it," she told Paz. "Convenience and shortcuts do not enhance pleasure. But take the time to dig out a record, put it on the turntable, sit back and listen ... That's where the pleasure is. That's where the relationship with music grows strong; that's where the richness and depth are felt."
Dante Carfagna is a record archivist and Chicago-based DJ who spins funk, soul and psychedelic. 
"The record is a lasting, physical object," he told Paz. "It will survive long after the participants have passed, moved on or forgotten their endeavors. It is the postcard from the past that lets future humans know that something indeed happened. The more information one can gather about a particular subject, the greater the understanding will be. The vinyl record is frequently the only proof that a creative human event actually took place."