Bernie Sanders Wants to Win Over the "Run Warren Run" Movement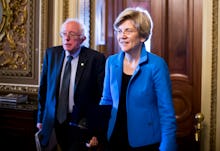 The "Run Warren Run" campaign announced Tuesday it will suspend its efforts to draft Sen. Elizabeth Warren (D-Mass.) into the 2016 presidential race, whose constant insistence that she has no interest in running for president seems to have finally taken hold. And Sen. Bernie Sanders (I-Vt.) is already showing signs he wants to recruit the campaign's 365,000 supporters into backing his own bid for the Democratic presidential nomination.
On Tuesday, Sanders called the executive director of Democracy for America, which partnered with MoveOn to oversee the Run Warren Run campaign, after it announced its decision to suspend operations. News of the call was first reported by the Hill, which noted that neither front-runner Hillary Clinton nor former Maryland Gov. Martin O'Malley had been in touch with the group.
Sanders "congratulated DFA members and the whole team on what we did with the Run Warren Run campaign — not just building this campaign to get Warren in the race, but building a movement of folks around the country who are committed to seeing Warren's populist progressive message at the very center of the 2016 debate," Neil Sroka, Democracy for America's communications director, told Mic.
Sanders' appeal as a presidential candidate has tripled in recent months in the crucial caucus state of Iowa, but in order to close the daunting gap between himself and Clinton he will need considerable organizational firepower — undoubtedly something that was on his mind when he reached out to Democracy for America. At the moment, the group is making no commitments. The Sanders campaign declined to comment when reached by Mic.
"We haven't made any decisions about endorsements going forward, but at the end of the day, the actions that we take in terms of the 2016 race for president — whether we decide to endorse and whom we decide to endorse — is ultimately going to come down to what our members want," Sroka said.
Why Run Warren Run matters for Sanders: Democracy for America and MoveOn joined forces to convince Warren to run for president in 2014, and have since spent $1.25 million on that effort, according to Democracy for America. The money was spent setting up offices in Iowa and New Hampshire, where organizing staff collected petition signatures and built a grassroots network composed of state legislators, activists and everyday voters.
While as a policy Democracy for America wouldn't hand over its email addresses to any candidate it endorsed, it would use its national online network — made of about 1 million members — to encourage them to donate money and take action on an endorsed candidate's behalf. It would also be able to tap into the organizing apparatus and relationships it built through the Run Warren Run campaign in Iowa and New Hampshire — states that are of paramount importance for any serious contender for the presidency.
MoveOn, the other half of the Run Warren Run endeavor, is positioning itself similarly, declining to endorse any other candidate this early in race, but encouraging them to embrace the brand of progressivism that Warren has fashioned in Washington.
"MoveOn members are hungry for a Democratic nominee who embraces the Warren agenda on the economy, is committed to pursuing diplomacy over war, getting money out of politics and addressing climate change and presents an agenda that speaks to the growing demands of the Movement for Black Lives, the need for immigration reform, and the whole of the progressive coalition," Ilya Sheyman, executive director of MoveOn.org Political Action, told Mic in a statement.
In other words, the organizations behind Run Warren Run are making it clear that their support and resources are up for grabs. And since this is American politics, the process of courtship will probably take quite some time.