3 Things to Know About Rick Perry as He Launches His Campaign for President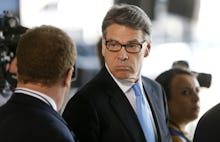 Former Texas Gov. Rick Perry announced Thursday that he is launching a second run for the White House, one he hopes will surpass or at least put to bed haunting memories of his disastrous 2012 campaign, which ended with questions about the Republican's ability to speak coherently on his own policy proposals.
With the announcement, Perry joins his former solicitor general, Texas Sen. Ted Cruz, in a swollen Republican field that now includes 10 declared candidates with at least five more on the horizon. It will be a steep climb back to relevance for the longtime governor, who garnered just 2% support from likely GOP voters in a Washington Post/ABC News poll released Wednesday, placing him in a tie for 13th place with former Hewlett-Packard CEO Carly Fiorina. 
Perry, for some reason, came on stage to the tune of his own personalized rap/country song, and was flanked during his remarks by war veteran and Lone Survivor author Marcus Luttrell and his brother Morgan, also a Navy SEAL:
The widow of slain American Sniper Chris Kyle was also on hand for Thursday's event. Taya Kyle is actively endorsing Perry's run and featured prominently in pre-announcement media blitz. "Believe me," she wrote in an email to supporters last week, Perry and his wife "are a breath of fresh air in a political system full of people playing games and twisting the truth." 
Here are three true things to know about Rick Perry as he kicks off his 2016 presidential run:
1. Perry was the longest-serving governor in Texas history.
Perry spent three decades in Texas politics before leaving the governor's mansion in January. He began his career by winning elections as a Democratic statehouse representative in 1984, before switching parties and spending most of the 1990s as the Texas commissioner of agriculture. After two years as George W. Bush's lieutenant governor, Perry took over the executive when Bush left for the White House in December 2000. He would spend the next 14 years in that office, winning elections in 2002, 2006 and 2010.
During his long tenure, Perry was twice elected chairman of the powerful Republican Governors Association. He also presided over a statewide employment boom, one he trumpeted on Thursday and will be keen to talk about more as he hits the campaign trail. But the quality of those jobs has come under scrutiny and drawn sustained criticism. As the Washington Post reported in 2011, "the number of Texans making at or below the federal minimum wage has skyrocketed since 2008, climbing from a little less than 5% that year to 9.5% in 2010." In an economy where income inequality and the wage gap have become central issues for candidates from both parties, Perry's record here could backfire.     
2. He is currently under indictment in Texas for abuse of power 
On Aug. 15, 2014, a grand jury in Austin indicted Perry for violating state law when he followed through on a threat to veto funding for a county prosecutor's office if its Democratic district attorney, who had been arrested for drunken driving, didn't resign her office.
The charges include coercion of a public servant and abuse of official capacity. Under Texas law, it is illegal for the governor to use his veto power as a tool for influencing other government officials.
Perry has very publicly denied any wrongdoing, saying the prosecutor's office in Austin — a rare liberal enclave in deep red Texas — is carrying out a political vendetta. 
"I wholeheartedly and unequivocally stand behind my veto, and will continue to defend this lawful action of my executive authority as governor," Perry said in a statement reported by the Washington Post. "We don't settle political differences with indictments in this country. It is outrageous that some would use partisan political theatrics to rip away at the very fabric of our state's constitution."
Despite two attempts to have the case thrown out, Politico reported in January that the case will go forward, meaning will Perry can expect to be pulled from the campaign trail for at least a handful of court dates.
3. What's the third one? Let's see... We can't. Oops.
Perry was touted as a legitimate contender when he entered the 2012 Republican nominating contest. But the candidate quickly unraveled, famously combusting on a debate stage in Michigan when he tried and tried, but ultimately failed to list the three federal agencies he wanted to eliminate.
"It's three agencies of government when I get [to the White House] that are gone," Perry said. "Commerce, Education and the um, what's the third one there? Let's see. Commerce, Education and the um, um."
From across the stage, eventual nominee Mitt Romney volunteered the Environmental Protection Agency as an option. "EPA, there you go," Perry said with a shrug. But that wasn't it. The moderator asked Perry again.
"The third agency of government I would do away with — the Education, the uh, the Commerce and let's see," he said, completely lost at this point. "I can't, the third one. I can't. Sorry. Oops." 
The incident inspired an extreme political makeover, with Perry notably swapping his cowboy boots for a pair of sharp-looking spectacles. In his speech Thursday, the candidate rattled off a series of big policy initiatives and projected his signature Texas swagger. 
But in the aftermath of his 2012 calamity, the major questions going forward will center more on how he fares when the conversation goes off-script than his undeniable ability to whip up a friendly crowd.