Bullies Couldn't Stop This 8-Year-Old From Growing His Hair to Donate to Cancer Patients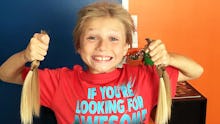 Christian McPhilamy is the son people dream about having.
When the Florida 8-year-old became interested in cancer research after watching a commercial for St. Jude's Children's Research Hospital, he decided to do what he could to help those in need. In the absence of a fat checkbook, McPhilamy did the next best thing: He literally gave the hair off his head to those struggling with cancer and other conditions like alopecia, Florida Today reported. 
But the story wasn't as easy as that.
Without having naturally flowing locks, McPhilamy grew out his hair for over two years in order to have enough to donate. The process was often difficult, with McPhilamy facing bullies at school. "Some people tried to call me a girl," he told Florida Today, adding that the comments had made him feel "not very good." 
"Christian is loving getting the word out there on how to donate and why he chose to donate. He is still having a bit of difficulty understanding why it is making such a huge impact," Deeanna Thomas, McPhilamy's mother, told Mic in an email.
On her Facebook page, Thomas gushed with pride.
"I am so very proud of my son! He has done a beautiful thing. He amazes me everyday with the little to the big."
In the end, after a shearing a few weeks ago, McPhilamy managed to donate four handsome ponytails measuring 10 inches each. The hair was then promptly mailed to the Michigan-based charity Children with Hair Loss.
By gracefully conquering the trolls at school, McPhilamy showed the contributions that anybody can make to the U.S. medical system, which often relies on personal charity and public financing to operate but is chronically short of both. 
As part of the body's integumentary system, hair is one of the easiest organs to donate. McPhilamy's donation draws attention to the persistent and grave disparities between the number of available organs and the number of people waiting to receive one. In 2013, 120,000 people were waiting for organs among less than 15,000 donors, the Department of Health and Human Services reported. Every day, 21 people in America die waiting for a transplant.  
On the health front, public spending, one of the traditional engines of large-scale medical research, has stagnated. The National Institute of Health, one of America's premier medical research institutes, has not had a funding increase since 2003 and has effectively seen its budget decline by 20%, according to a New York Times op-ed by former House Speaker Newt Gingrich. 
There's not much any individual can do about expanding the NIH budget, but as Christian McPhilamy demonstrated, there is more to giving back than the size of a check book, and even just 40 inches of hair could do a mile of good.