The FDA Has Finally Recommended the First Ever 'Female Viagra' Pill for Approval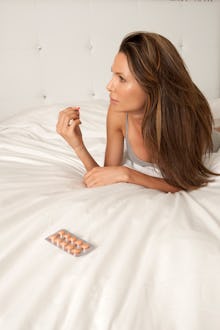 Can women's sexual desire problems be helped with a little pink pill? Maybe yes, maybe no — either way, the "female Viagra" may be coming.
On Thursday, a Food and Drug Administration panel voted 18-6 in favor of recommending Sprout Pharmaceutical's daily pill flibanserin, a female sexual desire pill, for approval for marketing in the United States, according to ABC 7. Flibanserin will become the first ever treatment for hypoactive sexual desire disorder (HSDD) in premenopausal women, joining the 24 treatments currently available for male sexual dysfunction.
The fight for desire: Legions of women's groups, politicians and lobbyists led a campaign urging the FDA to approve flibanserin, citing a potential gender bias within the industry (which the FDA strongly rejects). If men have a wide selection of drugs to get their sex lives pumping, shouldn't women?
Flibanserin can potentially help female sexual dysfunction, but calling it "female Viagra," however catchy, is a misnomer. The drug works on brain chemistry, rather than blood flow to the genitals, to increase desire-driving chemicals like dopamine and norepinephrine and decrease serotonin, according to NPR. For many women, that effect sounds tempting.
"We absolutely believe that's a women's rights issue."
"When women have zero FDA-approved treatment options to discuss with their doctor despite the fact that the FDA named female sexual dysfunction a priority unmet need, we absolutely believe that's a women's rights issue," Susan Scanlan, the chair of Even the Score, the platform urging the FDA to consider flibanserin, told Mic.
"A yes vote for flibanserin means more and more companies will be willing to invest in research and treatment options for all women suffering from sexual dysfunction," Scanlan said. On their site, Even the Score estimates that as many as 1 out of 10 women suffer from a lack of sexual desire. However, the American Psychiatric Association does not list hypoactive sexual desire disorder, which flibanserin is meant to treat, among its manual of mental health disorders.
Sex drive might be more complicated than a pill: It may be finally recommended for approval, but that doesn't mean everyone's cheering for "pink Viagra." Part of the concern are the side effects, which include sleepiness, fainting, dizziness and nausea. 
But more critics fear that the approval of flibanserin will send the wrong message to women who suffer from sexual dysfunction — or at least think they do. The "female Viagra," after all, doesn't treat physical dysfunction but rather desire. Critics say a pill risks pathologizing women's sex drives instead of understanding them; calling a woman "dysfunctional" instead of considering that the sex itself might be the problem.
"Female sexual desire, like male sexual desire, is complex and may be influenced by mood, anxiety, relationships, lifestyle factors, hormones, stress and more," Debby Herbenick, a sexual health educator at the Kinsey Institute, told Mic.
"Labeling women as abnormal and substituting medication for conversation is not what young women need."
Women's sex drives don't always work like spontaneous light switches, sex educator Emily Nagoski explained in the New York Times. A woman's desire for sex is dependent on what actually happens in bed, not merely brain chemistry. Up to 75% of women require some form of clitoral stimulation to achieve an orgasm — something they don't always get. 
As Liz Canner's 2009 documentary Orgasm Inc. illustrated, plenty of women feel like something's wrong with them when they don't orgasm, when in fact, they simply don't orgasm from penetrative sex and need more clitoral stimulation. But they've been culturally trained to not ask for the pleasure they really want, or even to know what to ask for.
For sex educators and researchers who understand the fraught nuances of female sexual desire, they're worried that a female libido pill will misdirect the conversation from where it really should be: understanding female pleasure.
"Young women don't need another reason not to talk about sex. Young women deserve encouragement in talking about their needs and communicating with their partners," Alessandra Hirsch, project manager at PharmedOut, said in testimony to the FDA Thursday, in a transcript obtained by Mic. "Labeling women as abnormal (when there is no such thing as an abnormal level of desire), and substituting medication for conversation is not what young women need."
When will we have the so-called female Viagra? As the Washington Post reported, the FDA usually heeds the rulings of its committees, but not always. Women everywhere can expect a final decision by the end of summer 2015.