Stephen Curry and His Adorable Daughter Riley Are the Definition of #ParentingGoals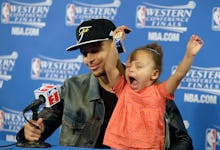 Golden State Warriors guard Stephen Curry may have won MVP this season, but we think his diva toddler daughter Riley deserves an award of equal or greater value for being adorable — and for giving us a picture of what parenting can look like.
The father-daughter duo has been a (mostly) welcome splash at post-game press conferences, with Riley's ridiculously cute energy lighting up the otherwise bleak, soulless vibe of sports media rooms. She mugs for the camera, leans onto the mic and, best of all, gets wrapped up in the podium curtains.
But the antics don't bother Stephen. In fact, on Wednesday Curry told an audience that his daughter is the reason he shows up to play basketball in the first place: 
"[She's] always happy to see me when I get home and that kind of makes everything all right. I rarely ever have a bad day, regardless of what happens on the court. It just gives you something more than basketball to kind of play and live for. It's pretty special. Obviously every father would say pretty much the same thing about what their daughter or son means to them and how they impact their life."
Tellingly, Curry's team, the Golden State Warriors, tweeted the clip with the hashtag #LeanInTogether, an NBA-WNBA public service campaign to "encourage men to support equality at home and at work."
With his daughter onstage, Curry takes the idea of "work-life balance" and disregards its demands, reminding us that our personal lives and professional lives can't be forcibly separated. "What clearly emerges if you watch the press conferences," Steve Almond recently wrote in a Salon profile, "is how incredibly attuned Curry is to his daughter." With grace and patience, he manages to literally balance, with Riley on his knee, his family and work in a way any of us can admire.
That Curry, who's currently gearing up for Game 1 of the NBA Finals, took the time to note that his top priority is in fact not basketball is a badass reminder for all of us to remember what really matters in life.
h/t BuzzFeed