Hillary Clinton Blasts GOP on Voting Rights and Calls for Automatic Voter Registration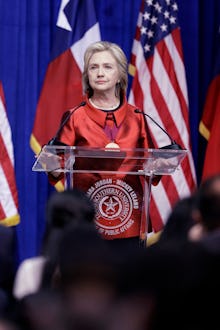 On Thursday afternoon Hillary Clinton gave a rousing speech on the importance of protecting voting rights at a time when they face threats in several states across the nation.
Speaking at Texas Southern University in Houston, the former secretary of state advocated for universal, automatic voter registration in response to what she deemed "a sweeping effort to disempower and disenfranchise" some of the most vulnerable members of American democracy:
The speech: Clinton, whose remarks were delivered on the anniversary of the day Congress passed the 19th Amendment which guaranteed women the right to vote, focused her criticism on the Supreme Court's 2013 decision to gut the Voting Rights Act. The court struck down requirements that made states with a history of racial discrimination seek federal approval for changes in election laws, which immediately led to many of those states passing excessive restrictions on voting.
Clinton pointed out the peculiar identification standards that many states end up imposing on citizens at the polls, noting that in Texas a permit for a concealed weapon is a valid form of identification, but a student ID isn't.
Many states, especially in the South, have taken steps to either block or dismantle policies regarding early registration, same-day registration and expanded voting hours. States have also added new standards for what forms of identification are acceptable at the polls — standards which are effectively intended to crack down on voter fraud but in practice block people without current IDs from voting. 
Clinton pointed out that these kinds of practices are politicized, and meant to discourage large numbers of likely Democratic voters from going to the polls.
Slamming the GOP: Clinton also targeted her Republican opponents with the most direct criticism she's leveled across the aisle so far in this campaign. She called out, by name, former Texas Gov. Rick Perry, Wisconsin Gov. Scott Walker, New Jersey Gov. Chris Christie and former Florida Gov. Jeb Bush — all likely or declared presidential hopefuls — for their positions on voting rights during their tenures.
"Today, Republicans are systematically and deliberately trying to stop millions of American citizens from voting," Clinton said. "What part of democracy are they afraid of?"
To tackle the challenge of the tens of millions of American citizens who aren't registered to vote, Clinton proposed a voter registration system that would automatically register eligible citizens to vote when they turn 18, unless they actively choose to opt out.
"If you're an eligible voter and want to be registered, you should be a registered voter — period," she said.
Clinton also called for fixing the Voting Rights Act, and used the issue to highlight her related concern about reforming campaign finance law.
"We need a Supreme Court who cares more about the right to vote of a person than the right to buy an election of a corporation," she said.