The Incredible Story of Who Daft Punk Is Behind the Helmets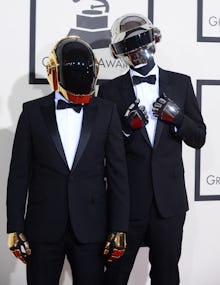 Daft Punk only enjoys the finest aspects of musical celebrity. They create universally respected records, frequently ranked among the finest achievements in the much-maligned electronic dance genre. They get multimillion-dollar recording budgets and maintain a ravenous fan base. But they can still walk down the streets of any major city and go almost completely unnoticed.
It's a lifestyle few other musicians in that echelon can lead. When they came out at Tidal's dream team launch event, it was clear that none of the other major celebrities enjoy a similar mix of acclaim and anonymity the band's continually evolving and always fashionable helmets provide. But the duo of Thomas Bangalter and Guy-Manuel de Homem-Christo were well on their way to musical greatness before they transformed themselves into cybernetic funk machines. The story about how Daft Punk became famous only makes their legacy that much more brilliant.
Their daft beginnings. Thomas Bangalter and Guy-Manuel de Homem-Christo met at a secondary school in Paris in 1987 when they were 12 years old. They became fast friends and were drawn together by their similar tastes in music and film, which back then included the Beach Boys, Michael Jackson's Thriller and Andy Warhol movies.
At 17, they formed their first band, a lo-fi indie punk act called Darlin' (a tribute to the Beach Boys song by the same name). They released one single, called "Cindy So Loud." It was met with a mixed critical reception, but a negative review in Britain's Melody Maker proved incredibly fateful when it panned their single as "daft punk." The duo enjoyed that tremendously and hung onto the phrase when they moved onto the next phase of their musical development.
Rock is dead. At the time, rock in Paris was slowing in popularity. In its place, a vibrant rave scene was thriving. When Bangalter and de Homem-Christo stumbled across it, the game changed for them musically. "This was more ener­getic; people were smiling," Bangalter told EDM Magazine. "Then we discovered Detroit and Chicago stuff." They started exploring electronic acts like Primal Scream and the Orb.
They disbanded Darlin'; the band's guitarist, Laurent Brancowitz went on to found the indie rock band Phoenix. The groups have continued to cross paths, most notably when Daft Punk appeared as a surprise guest at a 2010 Phoenix show.
Before the helmets. While attending a rave at EuroDisney in 1993, the duo met the heads of the techno label Soma. Daft Punk gave them a demo that featured a rough cut of a song called "New Wave." It would become Daft Punk's first single and their foothold in EDM, which they would later reshape entirely in their own image.
The group recorded its first two studio albums, Homework and Discovery, in Bangalter's bedroom, keeping that DIY-punk aesthetic alive in their new genre-defying EDM creations. They drew from the whole spectrum of their tastes to shape their new sound. They relied on those pounding house beats, but mixed in Hendrix-like distortion and disco breaks to create an entirely new electronic hybrid, which has since inspired the likes of Basement Jaxx and fellow French acts Cassius and Justice.
They performed their early shows under a revolving set of masks, such as Beavis and Butt-head and clown faces. According to Rolling Stone, the two used to play shows with their faces under black bags, and the first set of their helmets included hair.
"Sometimes," Bangalter told EDM Magazine, "I think dance music is too cold, y'know? We don't really take it very seriously."
They tried to do the same in their music as well. "Something that we want to do is keep it warm," Bangalter told Mixmag in 1997, according to AV Club. "A lot of electronic music is very cold. Rock has a certain warmth — that is a good thing about it, and soul and funk and disco too. We were not interested in doing really dark music. Our music is not stupid happy house, but it makes people happy."
Becoming the robot. The duo didn't fully adopt the robot personas until the release of their second album, Discovery, which saw their sound shift into more solidly synth-pop territory.
"We were doing a track and our sampler crashed and exploded and there were sparks," Bangalter explained to Vice's Piers Martin in November 2000. "We were hurt a little bit so we had to make a little surgery and then we became robots."
It seemed to signify a new beginning. "Everything was erased, we had to start all over again," Bangalter said in that same interview. "We don't keep a record of the time when we make music."
The helmets have since become an integral part of the Daft Punk mystique. But they do far more than maintain the anonymity of the duo; they're a significant aspect of the duo's artistic identity.
"We're not performers, we're not models – it would not be enjoyable for humanity to see our features," de Homem-Christo told Rolling Stone. "But the robots are exciting to people."
Every single aspect of their performance is meticulously planned and dedicated to keeping a sense of magic about their music. That's one of the reasons they kept the news about their most recent album, Random Access Memories, under wraps for so long. And the same goes for any future projects that fans are eagerly awaiting.
"When you know how a magic trick is done, it's so depressing," Bangalter explained to Pitchfork. "We focus on the illusion because giving away how it's done instantly shuts down the sense of excitement and innocence."