Twitter's Livestreaming App Just Made It Way Too Easy to Stalk Users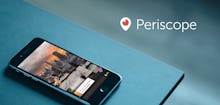 On Thursday, Twitter's video livestreaming app Periscope rolled out an update that allows users to see a global map of all broadcasters who have their location turned on. It was a feature the Periscope community had been requesting for a long time: the ability to discover other users nearby.
But as it turns out, the map allows viewers to get way too specific about where broadcasters are located. In fact, by zooming in far enough on the map, you can find exactly where a broadcaster is located in real time.
When this writer was broadcasting on Periscope last night, commenters were able to name the exact street corner my house was located on, and named nearby landmarks that were either next door to my apartment or across the street from me, all while I sat in my bedroom.
Anyone willing to make the drive and look through the window could use the app to find me, no problem. Even worse, the app has a number of underage users, who have to deal with enough harassment on the platform as is.
Periscope has already had this problem once before. When Periscope first debuted, any broadcaster with their location turned on was accompanied by a little map that allowed you to do exactly what was said above: zoom in on where users were located. But when it was pointed out, Periscope made the map less specific, so that you could see only the general city or neighborhood a Periscope user was in.
Now it seems that work has been undone, and this time the problem is worse. With the Global Map, you can see where all Periscopers are at once relative to where you are, so you could theoretically find the closest Periscoper to you without having to search feed by feed.
It's likely that Periscope will phase this out after further user uproar. We've reached out to Periscope and will update this story if we receive comment.
In the meantime, as one person on Twitter put it: