A String of Colorado Sniper Shootings Has Police Looking for a Potential Serial Shooter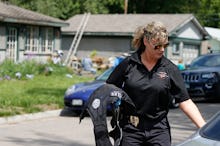 Is there a serial sniper on the loose in Colorado?
Authorities in the city of Loveland are investigating this possibility after 65-year-old William Roger Connole was found dead on a sidewalk Wednesday night. It was the third suspicious shooting in northern Colorado within six weeks, leading to growing speculation from law enforcement and (of course) the media.
Connole's death came just weeks after 47-year-old John Jacoby was killed riding a bike in the nearby town of Windsor, and 20-year-old Cori Romero was seriously injured in Milliken, both with similar gunshot wounds.
"There is no positive link," David Moore, public information officer for the Larimer County Sheriff's Department, told reporters, but added that investigators had "not been able to rule out a link either," the Los Angeles Times reported.  
If the existence of a serial shooter is confirmed, it would mirror a similar case which shook Washington, D.C., in late 2002. For three weeks in October, John Allen Muhammad and his teenage accomplice Lee Boyd Malvo terrorized the city, gunning down people at random from a blue 1990 Chevrolet Caprice. The pair left 10 dead in the D.C. area before they were finally apprehended on Oct 24. In the hysteria that reigned as police desperately combed through false leads, authorities advised residents to "zig-zag" while they walked to avoid becoming a victim.  
Colorado residents expressed shock, telling media that their communities were quiet and peaceful. While the state has low levels of gun violence nationally, it has been home to some of the most infamous individual acts of terror in the nation. In July 2012, James Holmes opened fire in a crowded theater in Aurora, killing a dozen people. One of America's most shocking school shootings took place in Columbine, when Eric Harris and Dylan Klebold murdered 13 people in April 1999. 
Gun violence is so common in America that if every murder made national news, there would hardly be time for any other issue, but the problem is not one that should only make headlines in sensational cases like those in Colorado. Every gun death, whether or not it comes from a "serial sniper," is a tragedy.