Black Mississippi Families Face Jail Time for Cheering at Their Relatives' Graduation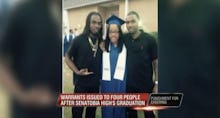 Two black families in Mississippi who broke the traditional, but often ignored, graduation rules of holding applause until all the students have collected their diplomas were escorted out of the ceremony on May 21 and issued warrants for "disturbing the peace" one week later. 
Students Lanarcia Walker and Lakaydra Miller were graduating from Senatobia High School in a ceremony being held at Northwest Mississippi Community College when their family members cheered for them as they walked across stage, WREG Memphis' Michael Quander told Mic. 
Superintendent Jay Foster had initially called on the audience to reserve their applause; a week after the ceremony, he filed charges against four of the family members for not complying. The family members face potentially having to go to court, pay a $500 fine or even serve jail time.
Lanarcia's brother, Henry Walker, told WREG Memphis that receiving criminal charges for supporting his sister was "crazy" and "ridiculous."
However, according to WREG Memphis, despite public outrage, Superintendent Foster staunchly defends his decision, arguing order at such ceremonies is essential.
According to the affidavit filed in Tate County Justice Court, Lakaydra's aunt, Ursula Miller, was charged with "loud, boisterous noise," which was "against the peace and dignity of the State of Mississippi," wrote the New York Times.
Miller also expressed her disbelief:
The story has gained national attention, with many calling on the superintendent to retract the charges. People on social media are questioning the motives of these warrants and suggesting there are racial undercurrents at play, given the superintendent is white and the families served are black. They also reside in a state with a long and violent history of racism.
Brief applause for loved ones receiving their diploma is a customary response during graduation. Escorting the family out of the ceremony seems like a sufficient penalty for a school which takes the rules more seriously. Filing criminal charges is a bridge too far.