The Surprising Reason Facebook Won't Remove a Disturbing Video of Child Abuse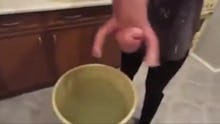 A disturbing video shows a screaming baby swung from its arms and legs, shaken and dunked repeatedly in a tub of water. As the clip went viral on Facebook, outraged users spoke out, calling for Facebook to remove it. The company has finally responded, and its answer is no.
Peter Wanless, chief executive of the National Society for the Prevention of Cruelty to Children (NSPCC), wrote a plea to the U.K. minister responsible for Internet safety, reported the Guardian. 
"The NSPCC believes we have now reached the long overdue point where it is time for social networking sites to be held to account for the content on their sites and pay more attention to their safeguarding duties to protect children and young people, whether they are viewing the content or appearing in it," he wrote.
But according to the Guardian, Simon Milner, director of policy at Facebook U.K., said the video should stay up to make the abuse public so that more people would see it and be able to help the baby in distress. "Our response has been it does not breach our terms, but it is a disturbing and distressing video," he said on BBC's Radio 4. "And therefore it's right that we put up a warning ... and only if it is shared in the context of condemning it."
A confusing history of censorship: Facebook often removes videos glorifying violence, but disturbing clips will sometimes remain live if judged important for people to understand what's happening in the world. Even clips that show murders or graphic violence, such as this one depicting a customs agent being gunned down by the Free Syrian Army, are left up to expose global conflict and shine light on international issues. 
According to Facebook's Community Standards page, the site will "remove graphic images when they are shared for sadistic pleasure or to celebrate or glorify violence."
In 2013, the company reversed its decision to allow a video of a woman being beheaded to remain on the site. According to Reuters, Facebook's statement read in part: 
"When we review content that is reported to us, we will take a more holistic look at the context surrounding a violent image or video. Second, we will consider whether the person posting the content is sharing it responsibly, such as accompanying the video or image with a warning and sharing it with an age-appropriate audience. Based on these enhanced standards, we have re-examined recent reports of graphic content and have concluded that this content improperly and irresponsibly glorifies violence. For this reason, we have removed it."
Facebook has also come under fire for removing nonviolent content. The company has been criticized for temporarily removing images of breast cancer survivors, a 150-year-old painting, a photo of two men kissing and portraits (and selfies) of breastfeeding mothers. Art critic Jerry Saltz was kicked off Facebook in March for posting images of grisly medieval art. (Not to mention, Facebook-owned Instagram has a separate slew of censorship controversies.)
Facebook's nudity policy now says it will "always allow photos of women actively engaged in breastfeeding or showing breasts with post-mastectomy scarring" and "photographs of paintings, sculptures, and other art that depicts nude figures."
In the case of this baby video, Milner hopes the child's abusers can be exposed and the baby will be protected. 
"We have seen from experience that when things like that are shared on Facebook it can and does lead to the rescue of the child," Milner said, according to the Guardian. "We hope very much that this will happen in this case."