Willow Smith Just Landed a Groundbreaking Fashion Ad Campaign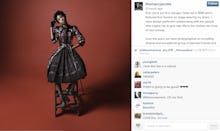 In an Instagram post published Thursday, Marc Jacobs introduced the first image of Willow Smith, a mere 14 years old, as a star of the designer's Fall/Winter 2015 campaign. Clad in goth-like black attire and sitting on a stool against a rich, red backdrop, Willow is serious and awe-inspiring.
But the ad isn't notable just for its visuals. Willow's casting signals a promising shift by fashion labels who are naming black celebrities as spokeswomen this season. 
R&B singer Ciara is the star of Roberto Cavalli's Fall/Winter 2015 ads, as of May. That announcement came shortly after Christian Dior tapped Rihanna to be the face of their new campaign, becoming the first black woman to ever represent the brand. 
Rihanna highlighted the significance of her casting, telling MTV, "It's such a big deal — for me, for my culture, for a lot of young girls, of any color." Some might call that an understatement. Women of color have long been underrepresented in fashion, from runways to advertisements. As Mic previously noted, according to a Jezebel report, models at New York Fashion Week for Fall 2014 were 78.69% white. 
But more women, especially models, are speaking out, including veterans Naomi Campbell, Iman and Bethann Hardison, a model-turned-advocate. The three sent an open letter to designers in 2013 calling for more diversity on the runway — and Marc Jacobs was among the designers they called out for not featuring enough models of color. 
Tellingly, in his Instagram post about the new Willow Smith image, Jacobs wrote, 
"Over the years we have photographed an incredibly diverse and exceptional group of talented friends and individuals who I greatly admire: Victoria Beckham, Jamie Bochert, Jarvis Cocker, Sofia Coppola, Miley Cyrus, Dakota Fanning, William Eggleston, Jessica Lange, Jennifer Jason Leigh, Stephen Malkmus, Samantha Morton, Kate Moss, Charlotte Rampling, Winona Ryder, Stephanie Seymour, Cindy Sherman, Michael Stipe, and Rufus Wainwright, just to name a few."
Not a black woman on the list — until now. Hopefully Willow, along with Rihanna and Ciara, are just the start of a major industry shift that's needed more than ever.