This 9-Year-Old Girl Is Literally Building Shelters for the Homeless in Her City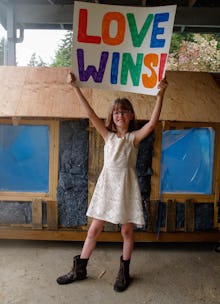 Hailey Fort is not a typical 9-year-old.
After the Bremerton, Washington, resident saw a homeless man while shopping with her mother four years ago, she decided to do something about it. Today, she spends her free time building shelters for locals with no other place to go, local KING 5 News reported. 
The first shelter went to her friend Edward, a former supermarket employee who had been laid off.
With the help of grant money, the precocious Fort is aiming to set up 11 further shelters for more local residents that will ultimately be incorporated into a permanent tent city, which is expected to open later this year. A GoFundMe campaign set up to support Fort exceeded its original $10,000 fundraising goal in just one week.
Aside from some minimal supervision by her mother, the 9-year-old does the bulk of the work herself, handling assembly, installing windows and laying down insulation. Power tools in hand, Fort cuts an impressive figure.
If all that wasn't incredible enough, before embarking on her promising career in micro-construction, Fort previously managed a garden to grow food, which she then donated to a local food bank. According to a Facebook page set up to promote the garden, called Hailey's Harvest, Fort harvested 128 pounds in 2014. The page now also posts updates on the construction.
Fort's passion to house the homeless mirrors many similar efforts by progressive individuals and governments in the U.S. and around the world. Last year, artist Gregory Kloehn developed an ingenious way to build shelters in Oakland, California, by using mostly recycled materials. 
On the policy level, the traditionally conservative state of Utah employs one of the most progressive homeless management programs in the nation, essentially providing homes for the state's chronically homeless and saving big bucks in the process. The Canadian city of Medicine Hat has all but eliminated homelessness using a similar "housing first" approach.
In 2014, more than half a million Americans experienced homelessness on any given night, the National Alliance to End Homelessness reported. In the richest country in the world, it is obscene that any American should have to sleep on the street. 
Sometimes, it takes the wisdom of kids like Hailey to be reminded of things that should be jarringly obvious. 
Watch the full story below.