Woman Speaks Out About Brother's Alleged Sexual Abuse by Former Top Republican Hastert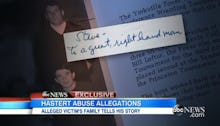 The sister of a man who said he was sexually abused by former House Speaker Dennis Hastert, an Illinois Republican, during the future political leader's time as a high school wrestling coach told ABC News that Hastert did not deny the allegations when she confronted him after her brother Steve Reinboldt's death in 1995.
Reinboldt was a student equipment manager for the wrestling team at the Yorkville, Illinois, high school where Hastert taught and coached from 1965 to 1981. In Reinboldt's 1970 yearbook, Hastert wrote the teen a dedication, calling him his "great, right-hand man." Nine years later, after Reinboldt told his sister, Jolene Burdge, he was gay, she asked him about his first sexual experience.
"He just looked at me and said, 'It was with Dennis Hastert,'" Burdge said on Good Morning America. "I was stunned."
The allegations: After Reinboldt died of AIDS in 1995, Burdge said Hastert, who is currently under indictment for bank fraud and lying to FBI agents in an effort to buy the silence of a victim of "past misconduct," showed up uninvited to his wake. After Hastert made his exit, Jolene followed him out into the parking lot of the funeral home:
"I said, 'I want to know why you did what you did to my brother.' And he just stood there and stared at me. He didn't say, 'What are you talking about?' you know, [or] 'What? I don't know what you're talking about.' 
"Here was the mentor, the man who was, you know, basically his friend and stepped into that parental role, who was the one who was abusing him," Burdge told ABC News. "He damaged Steve, I think, more than any of us will ever know." 
Reinboldt is not the "Individual A" described in the federal charges against Hastert, since the allegations describe payments made from 2010 to 2014, long after Reinboldt's death. The former speaker is alleged to have paid Individual A $1.7 million of a promised $3.5 million in hush money before federal agents intervened.
For Burdge, the arrest and indictment of the man she believes assaulted and traumatized her brother decades ago represents a small victory after a series of unsuccessful attempts to bring the allegations to the public. When Hastert resigned his congressional seat after allegedly seeking to cover up sexually explicit text messages sent to an underage page by a member of his caucus, former Rep. Mark Foley (R-Fla.), she wrote to ABC News with her story. But the network said in Friday's report it could not confirm her account at the time.
Hastert has yet to publicly comment on the case or any of the allegations attached to it. He is scheduled to make his first court appearance on Tuesday in Chicago.
You can watch the ABC News interview in its entirety below: