The Student Debt Strike Movement Just Got Some Serious Backup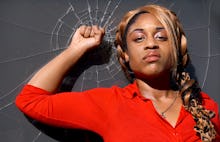 In February, 15 former students of colleges run by Corinthian Colleges, Inc., once one of the largest for-profit operators of colleges in the nation, decided to band together and refuse to pay back their federal loans. 
The number of strikers has since swelled to 190, and now over 1,000 additional students have pledged solidarity with the movement and are threatening to join the debt strike, according to an announcement by organizers.
The Corinthian student debt strike movement argues that they shouldn't have to repay loans for a fraudulent education. Corinthian Colleges was shuttered this year after a federal investigation and legal actions found the corporation had engaged in a multitude of duplicitous and exploitative practices, including predatory lending, fabricated performance data and job placement rates, and bogus career services. While Corinthian students have had some of their private student loans forgiven, their federal student loans remain intact.
The strike: When the strike began in the winter, it was small but received a lot of media attention. Failing to repay student loans can rapidly wreak havoc on an borrower's financial life, and so the strikers' decision to defy their obligations spoke to a noteworthy kind of conviction — and desperation. 
Their action produced results swiftly. After about two months, several of the students and the organizers they worked with went to Washington to meet with senior officials from the Department of Education, the Consumer Financial Protection Bureau and the Treasury Department.
But since then, nothing has been resolved. The Corinthian strikers and organizers boycotted a follow-up meeting with Education Department officials after learning that the department intended to announce an individualized process for repayment. The Corinthian strikers considered the plan unacceptable, arguing that all former Corinthian students deserve a class-wide discharge of federal loans. They argued that since there is a consensus in Washington that Corinthian students were defrauded, anything short of mass debt cancellation is inadequate. 
After the boycott, the line of communication with Washington has grown quiet, according to Laura Hanna, co-founder of the Debt Collective, the Occupy Wall Street offshoot that has been central to organizing and advocating for the striking Corinthian students, told Mic.
The Education Department says that nothing has been settled yet on what debt relief will look like.  
"The department is committed to making sure students who have been defrauded or whose schools closed, receive every penny of debt relief that they are entitled to," Dorie Turner Nolt, press secretary at the Department of Education, wrote in an email to Mic. "While no final decisions have been made about how debt relief will work, we will make that as easy as possible for students and we will hold institutions accountable."
Pressure continues to mount: In the meantime, the Corinthian strikers are continuing to apply pressure. They've gotten 1,232 graduates from colleges (for-profit, public, and private nonprofit) across the country to sign a pledge of solidarity threatening to refuse to pay their own loans if the Education Department doesn't provide Corinthian students with class-wide discharge. The Debt Collective has also continued to send legal claims to the Education Department — now totaling 1,400 — on behalf of Corinthian students encumbered with student loans for their now largely worthless degrees. 
The situation is still evolving, and it remains to be seen whether the Education Department will concede to the Corinthian strikers' demands. But now, the original strikers at least have some backup.
This post has been updated to include comment from the Department of Education.