Andy Murray Declares Himself a Feminist After Sexist Criticism Aimed at His Female Coach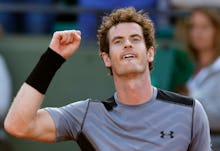 Tennis star Andy Murray has done plenty of incredible things. He's currently ranked third in the world, he's an Olympic gold medalist and a philanthropist to boot. But now he can add another commendable achievement to the list: He's also a crusader against sexism. 
Though sexist attitudes have long pervaded the tennis world — Grand Slam prizes were only recently made equal for men and women, and some still push back on this choice — Murray refuses to discriminate. Most notably, he hired female coach Amélie Mauresmo last June after firing his male coach. 
Yet doing so opened him up to sexist criticism. "Very few [male] players before me have worked with a female coach," Murray writes in a recent column for the French newspaper L'Equipe. "I realized it would create a feeling of suspicion, mistrust and perhaps even negativity." He notes that Mauresmo has even faced "criticism and prejudice" and was "slated every time I lost, which is something my former coaches never ever experienced."
Mauresmo has previously given even-keeled responses to the criticism she faces when Murray fails to perform. "The questions are really questioning me and the good decision he made or not [in hiring me]," she told the Guardian in January. But she chooses to rise above such petty insults: "It's always better to show than to respond vocally. So he's showing right now."
But Murray takes a more forceful approach to this sexism and has ardently defended Mauresmo, even making a point to thank her on the court after a particularly lauded match in January. Being forced to defend his coach essentially due to her gender has led the tennis star to reconsider his own identity: Namely, he now identifies as a feminist.
"Have I become a feminist? Well, if being a feminist is about fighting so that a woman is treated like a man then yes, I suppose I have," he writes in his column.
"It really opened my eyes when I started working with Amélie," Murray recently told Red Bulletin. "Inequality is something I started to see and become passionate about. It's opened my mind."
Let's hope Murray's personal revelation about sexism and feminism sparks similar realizations in his fans all over the world, and that sexism in the tennis world and beyond comes to an (overdue) end.