15 Powerful Photos of the Massive Protests Against Gender Violence Taking Over Argentina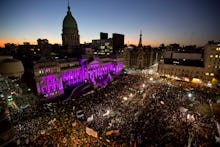 Thousands of people took to the streets across Argentina on Wednesday to protest gender-based violence after the murder of Chiara Paez, a 14-year-old who was eight weeks pregnant and beaten and buried alive by her 16-year-old boyfriend in May. 
The campaign #NiUnaMenos, which translates as #NotOneLess, was launched in the wake of Paez's death and started trending on social media, galvanizing protesters throughout the country.
#NiUnaMenos has been trending on social media for weeks. The murdered 14-year-old is just one of a number of high-profile cases of femicide this year, and the campaign precipitated by Paez's death sparked similar protests in neighboring Uruguay and Chile. A number of protesters wore shirts or held placards with the faces of women who have died from gender-based violence.
Argentine President Cristina Fernandez de Kirchner weighed in on social media too. "We are dealing with a culture that is devastating to women," Kirchner wrote in a translated portion of her Facebook post.
International Argentine soccer star Leo Messi did the same with his own post on Facebook, translated as "Enough of femicides. From Barcelona we join all the Argentines today in screaming loud ?#NiUnaMenos."
Gender-based violence is a pervasive problem in Argentina and, more widely, Latin America. Women's rights NGO La Casa del Encuentro reports 1,808 instances of femicide in the last 7 years, which equates one death every 34 hours. Ordinary citizens in Argentina and the rest of the world also used social media to convey their support for the anti-GBV campaign and protests.  
By some estimates, thousands of people in cities across the South American country took to the streets as large swaths of Argentina participated in the movement, across genders and generations. Giving voices to the voiceless and empowering the vulnerable is the only way to purge a society of entrenched inequality and violence. Argentina, it would seem, has had enough.