The Story of How Dubsmash Became Famous Will Make You Love It Even More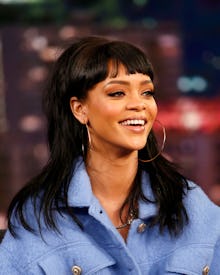 When Rihanna debuted her single "Bitch Better Have My Money," she didn't do it through Tidal, Twitter, Vevo, YouTube, Vimeo or Spotify, or even at a concert or award ceremony. She dropped the video on an app that had until that point received virtually no press or viral buzz.
The app is Dubsmash, a German app that lets users create videos in which they lip-sync over their favorite songs. 
Dubsmash has been in the top 10 free app downloads in the App Store since the beginning of April, and has been in the top 50 since January, according to App Annie. Rankings in the Google Play store mirror the same trends. On any given day, it might be downloaded more often than Kik, Skype, Twitter, Pinterest, Spotify and WhatsApp. According to the Dubsmash site, it has more than 50 million downloads, and its meteoric success shows no signs of slowing.
By now, you may have seen your favorite celebrity in a Dubsmash video. You might've scrolled past a friend's Dubsmash compilation on Facebook or even seen the app's watermark over a video on Instagram. 
Dubsmash lets you connect to a favorite quote, meme, trend, song or media moment and share your absurdity with the world.
How does it work? The app does one thing only: It creates "dubs." A dub is a piece of audio from Dubsmash's immense database — much of which comprises user uploads — with a video you make, typically by pretending to sing along (though some people dance, act, or whatever else). For example, model Kate Upton and boyfriend/Major League Baseball pitcher Justin Verlander:
When you open the app, you'll see trending sounds that people are using today. Recent favorites: YouTube user PewDiePie's famous opening, "My name is PewDiePie," and a clip from Shia LaBeouf's "Do it" monologue. 
You can also search by genres like Internet Hits if you're looking to record a video for "Chocolate Rain" or "Charlie Bit My Finger." In the Old School section, you'll find Bill Nye clips and Chumbawamba's "Tubthumping." Then there's Swag, where you can record yourself doing "Bitch, you guessed it" (OG Maco's "U Guessed It") or "About a week ago" (Bobby Shmurda's "Hot N*gga") — if you haven't already.
Once you've selected your clip — or uploaded your own sound — you can record the video, seamlessly retrying as many times as you need. It looks just like taking an Instagram video, only this sound bar is at the top:
Dubsmash lets users send dubs via Facebook Messenger or WhatsApp or just save it to the Camera Roll. But the way people are really using Dubsmash is sharing their dubs to Instagram followers. Most sound loops fit easily in Instagram's 15-second limit.
The only downside to exporting to video? The hideous "Dubsmash.com" watermark, which evangelizes the app by putting the Dubsmash name in front of every reader. Still, judging by the app's A-list user base, the strategy is working.
Everyone's using it: The most prominent dubbers are the celebrities who drop dubs on Instagram. Besides Rihanna, the list of prominent users is impressive: Adam Levine, Hugh Jackman, Lena Dunham, Josh Groban, Kevin Hart and dozens of models on Instagram.
Dubsmash is popular with the Jenner/Kardashian set, which has translated to instant popularity:
But the app also appears to be a huge hit in India, where Bollywood stars and Indian celebrities are flooding their Instagram accounts with dubs:
Who's behind it? Dubsmash is, like Soundcloud, a German tech company. It's the third attempt by a small group of developers in Berlin who had a series of mishaps trying to create similar apps before finally stumbling onto this smash hit.
The competitors have noticed Dubsmash's success. In February, Snapchat rolled out a feature that allows you to feed outside audio over your snaps, but it hasn't made much of a splash; recording voiceovers on Snapchat video is much more difficult. A large part of Dubsmash's appeal is the enormous library of sounds, the waveform view and an elegant recording interface. It makes lip-synching incredibly easy. 
But the biggest sell — the secret ingredient that keeps the app floating at the top of the charts — is how silly Dubsmash lets you be. Consider how Snapchat turned selfies addictively disposable, easy and fun; Dubsmash does the same with selfie videos. 
Dubbers aren't taking themselves too seriously. The app simply lets you connect to a favorite quote, meme, trend, song or media moment and share your absurdity with the world. And everyone is having a blast making a fool of themselves.