17 Years Later, This Is the Most Lasting Thing About 'Sex and the City'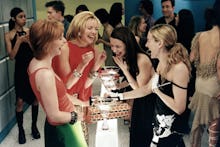 It's been 17 years after Carrie Bradshaw first twirled across the small screen in her classic pink tutu. The HBO series premiered June 6, 1998, and has since launched a movie franchise, themed bus tours and a dictionary's worth of references. But perhaps the most enduring aspect of the series is the question that's become a perpetual cocktail mainstay among friends: 
"What are you: a Carrie, Miranda, Samantha or Charlotte?"
"Are you a Carrie?" For women, the question serves as a pop cultural Myers-Briggs test. We all know what someone means when they declare, "I'm a Charlotte." The four characters sit neatly into four types: the Slut, the Prude, the Career Woman and the Heroine, as critic Brett Martin named them. Or, more specifically, "the Waspy gallerina, the liberal-feminist lawyer, the decadent power publicist," as the New Yorker's Emily Nussbaum defined them, plus the audience surrogate and everywoman, Carrie.
However we may define the four ladies — the romantic, the pragmatic, the priss, the empowered — women everywhere are ready to identify with one of them. 
"I am def a Carrie because I spend money on things I can't afford, love writing and am often overly emotional about my love life," Bethany*, 27, told Mic.
Of course, some women settle for a combination of characters, drawn to a few archetypes. "I'm totally a Samantha-Miranda hybrid. I'm a workaholic, but when it comes to sex, I don't give a fuck," Gina, 27, told Mic.
"I'm Carrie because I'm perky, scatterbrained and love writing, and Miranda because I'm a cynic and can be type-A," Elizabeth, 24, told Mic. 
Then we have our allegiances. "I think Carrie is by far the most well-rounded character," Simone, 26, told Mic. "So I think most women see a bit of themselves in her."
Even self-professed haters of Sex and the City identify with someone. "I dislike the female characters on Sex and the City. Can't stand the show. I guess this makes me a Miranda, right?" Sarah, 29, joked to Mic.
What "I'm a Carrie" means: While the slapstick sex scenes, Manolo Blahniks and devasting on-again, off-again relationships were part of Sex and the City's legacy, most women agree that long after the series went off-air, they're mostly still discussing "who" they are — a conversation that's really one about identity.
"This comes up about once every six months," Elizabeth said.
"I feel like it comes up once every six months or once a year," Bethany agreed.
What may make the Sex and the City types so long-lasting is that, despite the easily reducible definitions — the slut, the prude — they were actually more than typical rom-com characters. As Nussbaum pointed out, they were anti-heroines: "They were simultaneously real and abstract, emotionally complex and philosophically stylized." So are we, along with our friends.
We see Carrie in our friend with the witty remark. Samantha comes alive in our friend who doesn't give two shits. Our friend with a five-year plan is a Charlotte, while the hardworking and insecure one we dub a Miranda. It's fun to choose which one we all are, and that's why we keep doing it over brunch with one another. In a fun and distilled way, it lets us make sense of our friendships, the relationships we've had and the patterns we fall into.
"The characters fulfill specific stereotypes that many of us could agree with — like horoscopes. And the story was compelling enough that we keep looking at our friendships, personalities and relationships within its context," Alyssa, 27, who is a Samantha, told Mic.
That may be a reason why "I'm a Carrie" T-shirts and nameplate necklaces are still popular. They signify something about ourselves and our friends. They're a shorthand for the type of people we would date, the careers we're after and, in a certain way, even the kind of outfit we'd wear on a Saturday night (orange power suit versus red halter dress.)
For a show that focalized on the enduring and powerful force that is female friendship, it's only fitting that the part of the show we're still talking about is the only one we can share among friends.
* Names have been changed to allow subjects to speak freely on private matters.