Patrick Stewart Just Defended an Anti-Gay Bakery — but Not for the Reason You Think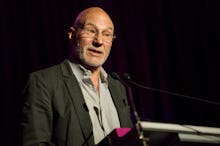 X-Men star and millennial icon Patrick Stewart spoke out recently about gay rights and free speech, and what he had to say was more than a little surprising.
In an interview with BBC's Newsnight, Stewart spoke candidly about his view of a Christian bakery in Britain that had recently been fined for refusing to bake a cake supporting marriage equality. 
Unlike similar cases in the United States, the baker in question said he had only objected to the message on the cake and the refusal had nothing to do with the sexual orientation of the customer or any specific event they were celebrating. Stewart, for his part, was sympathetic.
"I found myself on the side of the bakers," he told interviewer Evan Davis.
The story: The latest brouhaha unfolded over the case of Gareth Lee, a gay rights activist in the British territory of Northern Ireland. When Lee asked the Ashers Baking Co. to produce a cake with the the words "support gay marriage" and a photo of Sesame Street's Bert and Ernie, the proprietors refused, citing their religious objection to the message.
"I expressed disbelief. I couldn't believe it was happening. This is Northern Ireland. This shouldn't happen," Lee told the BBC at the time. "It was just an everyday transaction."
After a lawsuit brought in part by the nation's Equality Commission, the courts sided with Lee and the bakery was forced to pay out roughly the equivalent $760 for unlawful discrimination.
Stewart is known to have a sterling record supporting LGBT equality, and the bromance with his openly gay X-Men arch-rival Ian McKellen has been well-documented on the star's Twitter feed. As a result, his comments merit serious consideration. 
The overall case is a complicated one, and even with the judgment in favor of Lee, it is unclear where the line between acceptable and unacceptable denial of service will fall in long run. On the one hand, the bakery broke the law with their refusal, but as Stewart pointed out, the question remains to what extent the government can force a person or business owner to express a belief with which they disagree. Until those thorny issues are settled, the best bet for everyone might just be to live and let live.