Stephen Colbert and This 28-Year-Old Pianist Might Just Save American Jazz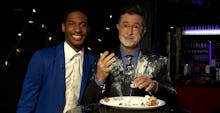 On Thursday, a beardless Stephen Colbert made a very important announcement concerning his upcoming Late Show gig. He has secured the perfect bandleader: Jon Batiste, the 28-year-old extraordinary jazz pianist from Louisiana.
For years, Batiste has been one of the most outspoken proponents of American jazz. His music is steeped New Orleans big band style, and his innovative take on it has breathed new life into the genre, making it endlessly and infectiously danceable for audiences around the world. His new gig as band leader is a significant opportunity. The Late Show, which Colbert is taking over from David Letterman, has long been revered for its musical offerings and its ability to bring lesser-known acts and sounds into the popular view. Thankfully, Colbert is dedicated to keeping that tradition going. Together, Batiste and Colbert may be about to change American audiences' perceptions of jazz entirely.
A jazzman from day one. Every jazzman needs an origin story, and Jon Batiste's is appropriately mythical. He grew up in Louisiana as part of a very musical family and started performing at 8 years old as a percussionist in the Batiste Family Band before later switching to piano. By the time he was 17, he'd already released two albums as a leader before heading to New York's famed Julliard to study jazz and classical.
He's since toured all over the world, hitting over 40 countries. At 28, he sits as the Artistic Director at Large for the National Jazz Museum in Harlem, spreading the interest in jazz music. He's collaborated with a wide variety of performers, including Wynton Marsalis, Harry Connick Jr. and the ageless, boundless Prince. But the entire time he's kept it strictly New Orleans.
"Not many places have a musical culture as diverse as New Orleans, and there's a freedom in what you can do there musically that you don't find elsewhere," Batiste said in an interview shared on his website. "There's an emphasis on performance and charisma — presenting something that makes people want to dance and have a good time. That's not all there is to me as a musician, but it's something that's easier to learn from exposure than from a teacher."
Social music. Batiste is taking the increasingly esoteric forms of jazz and making something vital and joyful out of them. One of Batiste's more recent projects is developing a new genre he calls social music. He named his recent album after the revolution he's creating, which brings the focus on freedom and fun to the absolute forefront of the music.
"It's about the intent of the music and that intent is that we want people to come together," Batiste told Okayplayer. "We want people who are from different backgrounds and different places to come together through this live music experience."
His jazz and gospel fusion, brought to life by his band Stay Human (which will also be following Batiste onto Late Show), places tremendous focus on improvisation and audience participation.
"We like to put all that in an interactive context and go into the audience, bring them onstage, or even take everyone out on the street," Batiste said in an interview on his website. "We call those moments love riots, because the energy is so kinetic and big. It's people coming together who don't know each other, and it's so beautiful. That's social music."
He's already given Colbert audiences a taste once before. Batiste appeared with his band on The Colbert Report back in 2014, leading the audience out of the studio and into the streets for a dance party.
Jazz is definitely not the vital cultural force it once was. It has fewer performers, fewer clubs and much smaller audiences. But the form still has brilliance to share. When Batiste is playing, jazz doesn't seem at all like the dead art form many insist it is. The more programmed, mechanical and overproduced our music gets, the more we may need the freedom that jazz and social music provides.
Colbert and Batiste could do amazing work showing American audiences that jazz is not the stiff, dead music many believe it to be. It's a dynamic and community-building art form. Batiste knows it better than most. And he's about to share that knowledge with the nation.