10 Heartbreaking Photos of Beau Biden's Funeral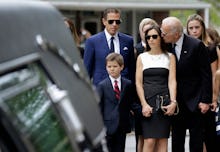 Former Delaware Attorney General Beau Biden, the son of Vice President Joe Biden, was laid to rest Saturday in a ceremony at St. Anthony of Padua Roman Catholic Church in Wilmington, Delaware.
The oldest child of Joe Biden died May 30 of brain cancer at the age of 46. A major in the Army, popular politician and by all accounts devoted family man, President Barack Obama described Beau Biden in a heartfelt eulogy as a "consummate public servant" who "didn't have a mean bone in his body."
According to NBC News, the ceremony was attended by over 1,000 people, so many that some mourners were moved into an overflow room. NBC News reported that in addition to the president, vice president, their families and Biden's former commanding officer Gen. Ray Odierno, attendees included "politicians from both sides of the aisle, such as Bill and Hillary Clinton, Senate Majority Leader Mitch McConnell (R-Ky.) and Rep. Nancy Pelosi (D-Calif.). Coldplay's Chris Martin sang the band's "Till Kingdom Come"; after learning that Beau Biden was a big fan of the band, Martin volunteered to sing, NBC News reported.
Here are 10 photos of Beau Biden's funeral service, capturing the somber mood of the day.