American Pharoah Makes Sports History by Winning Triple Crown After Belmont Stakes Victory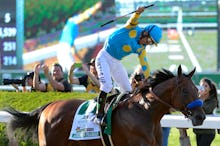 On Saturday afternoon, American Pharoah made horse racing history by winning the Belmont Stakes and becoming the first horse since 1978 to complete the sport's illustrious Triple Crown, having previously won both the Kentucky Derby and Preakness earlier this year.
During the sunny afternoon, American Pharoah took an early lead and didn't look back. Jockey Victor Espinoza said in a post-race interview he could tell it was American Pharoah's race to lose after just the first of four turns. 
"The way he hit the ground, you couldn't even feel how fast he was moving," Espinoza told NBC, according to the New York Times. 
"I'm very emotional," the Times reports trainer Bob Baffert said in the moments after the victory. "I'm thinking about my parents. I wish they were alive to see this."
American Pharoah won by five-and-a-half length and completed the one-and-a-half mile race in 2:26.65, which is roughly two seconds behind the track's all-time fastest record of 2:24 set by Secretariat in 1973, the same year that horse also captured the Triple Crown.
American Pharoah's win breaks the 37 year drought of a Triple Crown winner. Since Affirmed captured the Triple Crown in 1978, the Times notes 13 horses had won both the Kentucky Derby and Preakness, but none had managed to complete the triplet.
Along with the victory and going into history books as one of just 12 horses to have won the Triple Crown, American Pharoah also takes home the $800,000 first prize. Additionally, ESPN notes the horses value will also skyrocket for breeding purposes, meaning the colt is now worth more than $20 million.