5 Amazing Performances That Prove Melissa McCarthy Is an Incredible Actor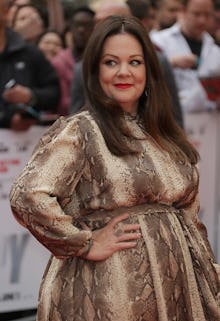 With the hilarious Spy winning over theater audiences this weekend, the obvious is once again made clear: Melissa McCarthy is a massive star. She can't open a movie on her name alone — see the misunderstood Tammy — but give her the right material and she knocks it out of the park.
Yet since Bridesmaids, McCarthy's developed a reputation for playing the same character: loud, crude and brassy. Critics of her work point to The Heat, Identity Thief and Tammy as the primary reiterations. There's some truth to this, though those films vary wildly in quality. One of the big reasons Spy works is because it subverts McCarthy's reputation.
Anyone who says McCarthy is a one-note actor is merely repeating lazy criticism. The veteran comic actress has years of varied, textured characters on her resume. Here are five roles that show the star's range.
Sookie St. James, Gilmore Girls (2000-2007)
"Melissa McCarthy was in Gilmore Girls" shouldn't be a surprising fact. She appeared in over a hundred episodes of the beloved WB series over seven seasons. As the culinarily gifted best friend of protagonist Lorelai Gilmore (Lauren Graham), Sookie proved an essential confidante and sounding board. She wasn't just a supporting player, either: Fans watched her fall in love, get married and have three kids. She was an essential part of the Stars Hollow experience.
Though she played up some moments of physical comedy, McCarthy led her portrayal of Sookie with her heart. Sookie is genuine, lovely and kind, funny simply in being rather than selling jokes to their hilt. Perhaps that's why her role on the series is often forgotten: This Melissa McCarthy, in some ways, doesn't recall the one of the cinema. Furthermore, her association with the show has been diminished — she didn't attend the cast's reunion in Austin, Texas, on Saturday night, for instance.
Yet for Gilmore Girls fans, she'll likely always be Sookie. She's the kind of character you don't forget, no matter how hilarious McCarthy's other roles have been.
Sandra, Go (1999)
Sandra knows what Adam and Zack (Scott Wolf and Jay Mohr) have been up to. They're both cheating on each other with her roommate. When they both show up at her door at once, she can barely contain herself, like a nerdy fan watching a soap opera play out on screen.
Go is an underrated late '90s gem, boasting performances from Katie Holmes, Timothy Olyphant and more. Even then, however, it's easy to see what a treasure McCarthy would become. She's in the movie for less than a minute, giggling all over the screen, and she's a major highlight. It's basically a cameo in retrospect, but it's also evidence of how reliably good McCarthy is in everything.
Margaret, Melissa and Mary, The Nines (2007)
The Nines may be McCarthy's least-seen work, but it stands among her best. The sci-fi mind trip eschews a traditional narrative for three loosely connected vignettes, each of which features McCarthy in a different role. In the first, she's the PR rep for an actor under house arrest (Ryan Reynolds). In another, she's a fictionalized version of Melissa McCarthy looking to break out on a new TV series written by her friend Gavin (again, Reynolds). In the third, she plays the wife of a video game designer (guess who).
It's in the second story that McCarthy really shines. When Gavin tells her the show's going with another actor, she unloads on him in glorious fashion. She turns in solid performances in the first and third stories, too. Margaret the PR rep in particular is highly quotable. ("I'm a fan of yours, you know. Your number one fan. But if you fuck this up, I'll smash your ankles with a sledgehammer!") 
Yet it's that middle narrative that gives McCarthy the biggest crack at bat because she's selling more than just comedy. As her later breakout role would show, comedy-plus is where McCarthy's star shines brightest.
Dena, Samantha Who? (2007-2009)
Dena and Sookie would probably be friends if their worlds intertwined. The best friend to Christina Applegate's titular character on Samantha Who? was positively charming for the show's two seasons, if a bit intense. Dena rekindles her friendship with Samantha after the latter gets amnesia, acting as the angel on her shoulder to Jennifer Esposito's naughtier Andrea.
Samantha Who? wasn't her most challenging role, but it was a fun extension of her Gilmore Girls work. Primarily, it gave her the chance to stay in the public eye long enough to break out into the next great phase of her career.
Megan, Bridesmaids (2011)
Yes, McCarthy's breakout role in Bridesmaids sparked scores of derivatives that relied too heavily on making jokes at her expense. Megan isn't anyone's joke, though. She's a tough woman who survived a slew of bullying in high school, rising above it and becoming a confident person. When she realizes Annie (Kristen Wiig) is in a bad spot, she helps by making her friend's depression physical, actually tackling Annie until she fights back. 
"You're your problem Annie," Megan tells her. "And you're also your solution." It's a powerful scene, funny on the surface but exploring deeper struggles. That's what she does best, actually: hitting sweet notes in a humorous way, and vice versa. It took her all the way to an Oscar nomination for the role in 2012 — a hard-earned nomination at that.
McCarthy is reliably hilarious and she's never afraid to dive in for the joke. Yet what makes her characters resonate isn't just comedy — it's the heart she instills in them. Spy should be taken as a sign of that: Give her the chance to balance humor and heart, and you've got a classic character in the making.