In One Quote, Colorado Man Trashes the "Paramilitary Thugs" That Destroyed His Home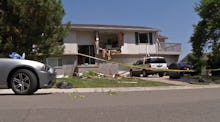 When an armed shoplifting suspect broke into the Greenwood Village, Colorado, home of Leo Lech while fleeing from police, he started a 20-hour standoff that ended on June 4.
But Lech isn't happy with the way public servants handled the situation. He says that "In any civilized nation, this is the act of paramilitary thugs."
Lech told the Denver Channel that law enforcement deliberately blew his house to shreds in order to deal with the single armed suspect.
The background: Video footage of the residence broadcast by ABC 7 in Denver shows that virtually every one of its exterior walls had been blown out, blasting debris across the yard and leaving the home completely unlivable.
"There was obviously some kind of explosive that was fired into here," Lech told the news channel. A neighbor chimed in to add that the SWAT team had driven a "tank" over the surrounding homes' fences.
"There are holes just like this one all through the back of the house too. They methodically fired explosives into every room in this house in order to extract one person," he continued. "Granted, he had a handgun, but against 100 officers?"
Lech acknowledged that the suspect was armed and dangerous, but suggested that a less aggressive strategy would have resulted in "ten thousand dollars of damage, maybe, instead of a quarter million dollars." While homeowners' insurance will cover the structural damage, Lech will have to pay for new furniture and possessions out of his own pocket.
Understandably, he's royally angry, calling the wrecked home "an atrocity":
This is far from an isolated incident: An ACLU report last year titled "War Comes Home" lambasted exactly this kind of police militarization, finding that an increasing number of SWAT deployments "often and unnecessarily entailed the use of violent tactics and equipment, including Armored Personnel Carriers, and that the use of these tactics and equipment often increased the risk of property damage and bodily harm."
The report criticized massive transfers of military equipment to local police forces, as well as the fact that 65% of drug raid warrants served by SWAT teams surveyed in the report involved breaching devices like battering rams or explosives.
Even if Lech gets his home repaired, many others will likely see theirs destroyed or loved ones unnecessarily harmed in similar police operations. Eastern Kentucky University justice expert Peter Kraska told the ACLU that the number of SWAT deployments had risen from 3,000 a year in the 1980s to 45,000 or more a year by the mid-2000s. According to Salon, anecdotal reports of massive property damage and personal injury arising from over-the-top paramilitary police raids are not uncommon.