Serena Williams Is On the Verge of Tennis History, But Can't Shake Sexism and Racism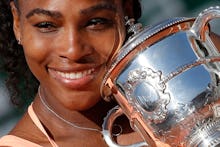 Serena Williams is now a little closer to making tennis history, with her 20th major Open Era win at the French Open on Saturday. Williams, who will likely surpass the record currently held by Steffi Graff at 22 wins, is no stranger to breaking records. She has paved the way for women, especially black women, in tennis after two decades playing professionally, but it seems this trailblazing still comes at price.
Williams' skills weren't the only thing on some Twitter users' minds after her big win: 
Racism and sexism converge: Williams is no stranger to this treatment, either. Twitter users have sounded off in similar ways previously, such as after her 2012 Wimbledon win. "I don't see how in the hell men find Serena Williams attractive?! She looks like a male gorilla in a dress, just saying!" someone tweeted at the time, according to blogger David J. Leonard. "Serena Williams is half man, half gorilla! I'm sure of it," another reportedly tweeted.
Perhaps the most notorious instance of racism was the 2001 Indian Wells tournament, at which Williams faced hostile taunts from spectators during her match. Williams' father Richard also said he was called racial slurs at the event, and Williams didn't return to the tournament until March. Williams has also faced countless instances of sexism over the course of her career — both on the court and off it. 
This treatment is less about Williams as an individual player, and more about the culture of racism she faces as a black, female athlete. As a recent Vox article outlined, persistent racism, the sexualization of black women's bodies and perceptions of black people being dangerous (in the case of black women, as overpowering or intimidating) all contribute to this response to Williams.
The tennis star herself, however, may have the most inspiring response of all. "Throughout my whole career, integrity has been everything to me," Williams wrote in a February Time column addressing the racism she faced at Indian Wells. Though the "under­current of racism" was "painful, confusing and unfair" and made her feel "unwelcome, alone and afraid," she knows the solution is to ultimately rise above it all. 
"I was raised by my mom to love and forgive freely," she wrote. "Together we have a chance to write a different  ending."
h/t Vox