This "FitBit for Penises" Aims To Change the Way We Have Sex — Hooray?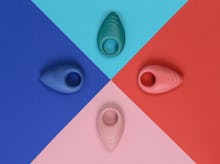 "Was it good for you?"
This classic post-sex question just got a lot more loaded, thanks to a new product currently climbing its way up the Indiegogo ladder: the Lovely, a "wearable sexual activity tracker."
Part sex toy and part activity tracker, the Lovely fits around the base of the penis with a dual purpose: to increase pleasure during the act and to provide a "sex report" afterwards. Lovely links to an app that provides a rundown of all the data you never knew you needed, including the speed, duration and force of your sexual encounters. And, of course, how many calories were burned.
"Once, after looking at my FitBit, I thought that it's really easy to track and improve your overall condition," Jakub Konik, founder and CEO of Lovely Inc., told Mic. "But you can't do that for your sex life."
Tracking data in the sheets: We've been here before. Fitbit users started using the wristbands for sex about as soon as the product launched (although many did so inadvertently), while Spreadsheets is perhaps the best-known app created with the purpose of sex tracking; it measures "movement and audio levels through the accelerometer and microphone to provide statistical and visual analysis of their performance in bed," reported the Huffington Post in 2013. 
Wearables take things to another level by adding pleasure into the equation, as these calorie-tracking cock rings have done. But the Lovely is unique in that it aims to improve the overall quality of couples' sex lives.
"Lovely can provide each partner with a personalized set of information and suggestions on how to improve their sex life," Konik told Mic. The data collected from the device is supplemented by user-supplied feedback after each session. "Long story short: Lovely knows what the couple likes and choses the right tips and tricks to have more pleasure during sex."
More data might not mean better sex: Anything with the potential to open up conversations between sexual partners about likes and dislikes is worth a try, given how essential communication can be. But critics are wary of the potential downside of marrying our sex lives too heavily to statistics. It stands to reason that if we get too carried away with measuring our sex, we run the risk of both feeling bad about ourselves and forgetting why we're having sex in the first place — for connection and pleasure. 
As Kristen Mark, director of the Sexual Health Promotion Lab at the University of Kentucky, previously told Mic, "People are always looking for a 'normal' that they can compare themselves to. ... But this can be harmful if you don't naturally fall within that range."
After all, we've all found ourselves going harder in a workout or walking circles around our living rooms for the reward of a glowing FitBit review; it's not hard to fathom a scenario in which users are focused less on their partner's pleasure and more on trying to hit certain numbers and stats to impress the Lovely. 
Plus, "good sex" means something different for everyone, particularly women; measuring number of thrusts misses the point when plenty of women don't actually orgasm from mere vaginal stimulation.
Time — and money — will tell: The Lovely team isn't worried about betting on the idea that technology can only help in the bedroom.
"Sex is a very important part of our lives and it deserves to be noticed by a modern technology," Konik said. "There is nothing out there like Lovely and we are thrilled to see how it's going to enhance peoples' sex lives."
Could the Lovely wind up shaping the sex lives of the future? Only time — and crowdfunding — will tell.