Shocking Video Shows Police's Horrifying Response to Being Filmed by an Innocent Bystander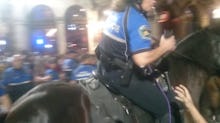 Overreaction?
A video uploaded to YouTube on Sunday from Austin, Texas, appears to show officers of the city's mounted police snatching a cell phone away from a bystander, while another officer walking behind hit the individual with pepper spray.
According to the post, the confrontation began after police tackled a different person for underage drinking, which seemingly caused a vocal crowd to form.
Jericho Tucker, who shot the video, told NBC News, "Police pushed all back and started kicking people too close. Pepper spray/deterrent was used on bystander who was filming the incident doing nothing."
Tucker told Mic he was visiting Austin for the X Games, an extreme sports event, and ran over towards the commotion after police tackled the man who can be seen being detained in the video. 
Despite the excitement, the crowd remained relatively calm during the incident, which lasted just about two minutes "from the time the man was tackled to when everyone started leaving the area," Tucker said. "Nobody was upset at police for tackling the guy, and many were making jokes about it while filming."
A statement released by the Austin Police Department said the force was, "aware of this incident and is conducting a review to determine if the officers' conduct is compliant with our policy."
The Austin imbroglio brings new attention to an increasingly bad few weeks for police in Texas. On Friday, officers in McKinney went viral after video surfaced showing a charged confrontation at a pool party. During the incident, Officer Eric Casebolt was seen drawing his gun on a number of swimsuit-clad teenagers and digging his knee into a young girl's back despite cries that she was in pain. On the other side of the coin, the police response to a biker gang shootout that left nine dead in Waco was criticized for the excessive leniency officers showed toward the murder suspects — most, if not all, of whom happened to be white men.
Along with body cameras, having a populace armed and ready with smartphones is one of the best defenses everyone has against unchecked police violence. While corrupt officers will always try and silence public oversight through intimidation, the Texas incident shows that for every camera confiscated and destroyed, 100 others will be filming.     
Watch the full confrontation below.