New Study Gives Best Reason Yet for Us to Care About Plus-Size Clothing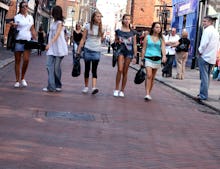 Teens.
Finding quality, stylish, plus-size clothing can be a grueling endeavor for any shopper. But it's particularly bad for teenagers, according to a recently released study.
Shopping for clothes as a teenager is often a negative emotional experience, according to the study, published in the Journal of Fashion Marketing and Management. The study's researchers conducted in-depth interviews with 30 teenagers who are plus-size, along with their families, about what their experiences shopping for clothes have been like. They found that almost 40% of the girls interviewed, ages 12 to 17, had developed a negative association with shopping due to past experiences, largely due to a lack of proper fit and sizing in stores. 
One of the study's participants included a 13-year old girl who was initially excited about shopping but became dismayed once she found little that fit her:
"I don't like when I try on clothes and then it doesn't fit because that makes me really mad and then I just give up and say I want to go home, I don't want to go clothes shopping. Even so when I come into clothes shopping I'm really excited then the clothes just don't fit and I get really mad and I just want to go home [...] I usually just give up and say that I don't need anything."
The upsetting experience is exacerbated for teenage girls who have to shop in the women's section because the sizing options are limited for junior's, according to the study.
Plenty of shoppers, not enough options: Despite the clear market for it (obesity has "quadrupled in adolescents" over the past 30 years, reports the Centers for Disease Control and Prevention), there seems to be a void when it comes to plus-size teenage clothing. Sales for plus-size women's clothing grew 5% last year to $17.5 billion, according to the NPD Group, but the majority of those shoppers were adult women, particularly older women. Sales for shoppers aged 13 to 17 fell 11%, according to NDP's report.
Part of that dip might be chalked up to the shrinking number of specialty teen stores overall. Last year, Delia's and Deb Shops filed for bankruptcy, and Wet Seal warned investors about its dwindling cash supply, according to Bloomberg. Other once-popular teen chains like Aerospostle, American Eagle and Abercrombie & Fitch have also seen slumping sales. 
Teen stores that are booming? The most notable is Brandy Melville, which famously (and controversially) sells clothes in just one — rather small — size. "There will always be the girls who will try to squeeze into it. They'll do whatever they can to fit in Brandy Melville," teen blogger Justina Sharp told the Huffington Post.
Reasons to be hopeful: But teen stores are slowly realizing that there's a plus-size void to be filled. "When I was a teenager — in the not-so-long-ago days of the early 21st century — plus-size clothing was essentially nonexistent," wrote Marie Southard Ospina on Bustle. "There was Torrid, of course ... [but] that was it." Now, mainstream names like Forever21, rue21 and even the erstwhile "cool kids only" brand Abercrombie boast plus sizes to cater to the hungry market, rounding out the trendy plus-size stores for women that have attracted teen followings.
Finding the right-size clothing is crucial to helping girls develop a positive relationship with clothes and their bodies. Already, research shows that we develop poor self-esteem and body images at ever younger ages. Half of girls between 6 and 8 thought their ideal weight should be thinner, according to data cited by CNN.
When teens go to stores and don't find cute clothes that fit their bodies, the experience in the dressing room can confirm their insecurities and doubts. It's about time more companies start designing clothes with all teenagers in mind. 
h/t Bustle