The Best, Gayest Musical Won the Night at the Tony Awards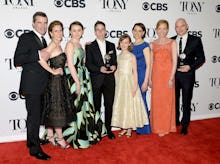 Ahead of Sunday night's Tony Awards, it looked as if the night would be dominated by Broadway's newest surprise hit. An American in Paris, an adaptation of the 1951 movie musical, led the field of nominations with 12, has been selling spectacularly and had won at least one important precursor. Prognosticators put their chips on Paris to win Best Musical — a smart bet considering all the signs pointed to its victory.
The signs were wrong. While An American in Paris won four Tonys, they were all in technical or behind-the-scenes categories. Another musical instead won five, including best musical, best director and best actor: Fun Home, the gayest show on Broadway this season, and absolutely the best.
Fun Home is an adaptation of cartoonist and Bechdel test popularizer Alison Bechdel's graphic memoir, also called Fun Home. The title is a reference to the funeral home her father owned and operated, her father (played by Tony winner Michael Cerveris) being a closeted gay man. The musical follows the coming of age of Alison, played in three incarnations: grown-up by Beth Malone, college-aged by Emily Skeggs and young by Sydney Lucas, all Tony nominees. She comes to grips with not only her own sexuality, but her father's, before and after his death.
It's a positively tearjerking show, both from the joy of self-discovery and the pain of failing to connect with a parent before his death. Fun Home absolutely deserved best musical, despite being a smaller show than An American in Paris or fellow nominee Something Rotten!
Fun Home is the gayest show on Broadway this season. It's also absolutely the best.
Fun Home's win over those shows is about more than just a Tony, though. While An American in Paris is a product of another time, with a sometimes indifferent treatment of its lead female character, Something Rotten! has some cringeworthy moments unbefitting a show on Broadway in 2015. Brooks Ashmanskas plays an unfortunate character that seems anti-gay, but is "given away" as a gay man by his mannerisms. The first act finale, "Bottom's Gonna Be on Top," turns the protagonist's last name into the exact dumb, repetitive joke you'd imagine.
In contrast, Fun Home features songs like "Ring of Keys," performed Sunday night at the Tonys by 11-year-old Lucas. The song is a beautiful, quiet moment of realization as the protagonist sees a lesbian woman in a diner. "It's probably conceited to say," Alison sings. "But I think we're alike, in a certain way."
"Ring of Keys" gives goosebumps. It's not the only such song in the show, either. "Changing My Major" sees a terrified, college-aged Alison falling in love. "Telephone Wire" is elder Alison's desperate plea to connect with her father over their shared queer experience. "Days and Days" is a sad, angry reflection from the Bechdel matriarch (Tony nominee Judy Kuhn) of a life spent ignoring who her husband is. 
The score is just stellar across the board, hitting emotional nooks and crannies to spectacular effect while featuring complex female characters and exploring what it is to be queer. Something Rotten! and An American in Paris are both well-produced shows, yes. But in 2015, to see the Tonys champion a female and queer narrative above all others is an incredible testament to the power of theater.
Fun Home will likely have a long life on Broadway. Yet even after it's gone, "Ring of Keys" will remain special, because it was performed in front of millions of people across America. In a night when Fun Home's book and score writers became the first female team to win both awards — a night when the first musical to tell a lesbian's story on Broadway was the big winner — Lucas' song will resonate as anthemic of Fun Home's big win. More than that, it's a song of empowerment for LGBTQ people, no matter where they are in their journey.
"I thought it was supposed to be wrong," Lucas sang simply. "But I guess I'm okay with being strong."
Fun Home is playing on Broadway now, with tickets going quick after its big night. The show will also tour America in 2016. In the meantime, watch Lucas' full performance of "Ring of Keys" below.