Bernie Sanders Tells Huge Crowd in New Hampshire "We're Going to Win"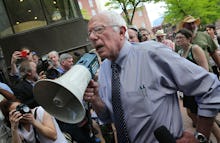 Whatever Bernie Sanders lacks in cachet and coin, the independent senator from Vermont makes up for by sheer force of will. On Saturday in New Hampshire, the upstart Democratic presidential candidate backed his bold ideas with an equally brave prediction.
"Let me tell you a secret," Sanders said, according to the Keene Sentinel. "We're going to win New Hampshire." 
Sanders delivered his promise to a faithful crowd of nearly 1,000 supporters, who filled a Keene recreational center to hear him call, yet again, for a "political revolution" against the prevailing powers of an increasingly "immoral" economy and outsize influence of big money in electoral politics.
Why New Hampshire is important: The Granite State will play host to the first party primary in late January or early February 2016. For Sanders, victory there is paramount. He is the favorite son of neighboring Vermont, where he was first elected to local office in 1981, before going on to represent the state as a member of congress and U.S. senator. 
Sanders' boastful rhetoric could be tied to a steady surge in New Hampshire polls, where he has steadily gained ground on Clinton since officially entering the race on April 30. The poll below, commissioned by Bloomberg Politics and Saint Anselm College and conducted by the bipartisan Purple Insights group, found Sanders with 18% backing among Granite State Democrats in the beginning of May, up from just 8% in February. 
Gaining momentum: Sanders will also be buoyed by the results of a straw poll conducted this weekend in Wisconsin, another state with a grand history of grassroots liberalism. Clinton edged Sanders out by a mere 8 points, with 49% of the vote to his 41%.  
"The Wisconsin straw poll and huge turnouts at town meetings in New Hampshire and Iowa are sending a message that people care about real issues like income inequality and the collapse of the American middle class," said Jeff Weaver, Sanders' campaign manager, in a statement on Monday.
But given the party's tentative primary and caucus schedule, which shoots the candidates from Iowa to New Hampshire then South Carolina and Nevada in the span of a few weeks, Sanders will need to prevail — as promised — in the Granite State to give his campaign a real opportunity to continue its challenge into the spring of 2016.