Shocking Photos of the Summer Jam 'Riots' Reveal the Hypocrisy of Police Action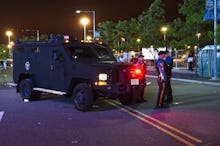 The Monday morning news cycle was filled with reports of "chaos" at Sunday night's Hot 97 Summer Jam concert in East Rutherford, New Jersey. At the hip-hop festival, police fully outfitted in riot gear clashed with concertgoers, who were apparently frustrated with the long security delays preventing them from getting inside MetLife Stadium. In response to fans pushing their way into the stadium, police tear gassed, pepper sprayed and arrested hip-hop fans — all over a Sunday night concert.
This gross escalation suggests a glaring hypocrisy with the way police in this country tend to react to black and white communities. Though the crowd was surely diverse, hip-hop is traditionally a black genre. Such escalation over a hip-hop festival seems especially uncalled for when compared to the casual arrests to white biker gangs in the recent incidents in Waco, Texas. Nearly seven months after the protests in Ferguson, Missouri, and only two after those in Baltimore, riot gear at a hip-hop festival is an all-too-clear illustration of racial tensions in America.
"We came out here for two hours," one man told ABC 7. "We paid legitimately to go to a concert and stood out here. They treat us like animals."
There are contradictory reports of what caused the conflict. The Record, via Daily Intelligencer at NY Mag, maintains that police shut the gates to the concert following a fight among fans, causing uninvolved paid fans to insist on entry and aggravate security. By some accounts, the conflict allegedly began after long delays in entering the festival caused members of the crowd to push past security guards. According to New Jersey State Police on Facebook, they were responding to "crowds attempting to illegally enter the sold out Summer Jam concert by climbing over fences and forcing their way through security personnel." Police responded to initial events in an outsized way, calling for backup and a squad armed with riot gear. Additional troopers were readily available, the NJSP explained, because 51 people were arrested at last year's Summer Jam. The officers began trying to disperse the crowd with shields and mace, which caused even more delays for fans trying to get in.
"People were falling down, trampling onto each other," a concertgoer named Jerry Arnold told CNN. "The concert started at 6 p.m. and at 9 p.m., people still weren't getting in."
In the following video, one can see a fan cautiously approaching a line of shields holding up a piece of paper, likely his ticket, before being led and pushed away.
Michael George, NBC New York correspondent, reported that police arrested dozens of concertgoers. On Monday afternoon, the NJSP posted to Facebook that 61 people were arrested, most of them charged with disorderly behavior. 
An officer in the following Instagram post brandishes a bottle of pepper spray at a camera trying to film a man getting cuffed behind the venue's gates.
Police also used SWAT vehicles and blared high-pitched sirens in attempts to disperse the crowd. Meanwhile, the concert inside went on. According to the NJSP, 10 troopers endured minor injuries. One photographer was reportedly hit on the head with a riot shield.
Bitter irony: While Kendrick Lamar could have been inside rapping "Good Kid" — "I can never pick out the difference and grade a cop on the bill / Every time you clock in the morning, I feel you just want to kill / All my innocence while ignoring my purpose to persevere as a better person" — the same trials were unfolding outside.
Hot 97 described the incident as "a small number of people created an unsafe environment, and for the safety of all guests, the New Jersey State Police were on scene to disperse the crowd." They promised a refund to anyone with an unscanned ticket who was unable to get past police barricades.
But this apology cannot make up for the aggression of the police's response. Police frequently respond to unrest in black communities with far greater aggression than they do in white communities. A tweet on Sunday encapsulated this, comparing a photo of suspects sitting calmly with police after the Waco, Texas, nine-person massacre, with a scene of a police officer cuffing a 14-year-old black girl at a pool party last Friday.
In Ferguson, Missouri, police came out in fully militarized riot gear, which escalated tensions enormously. The media betrayed a similar bias describing Baltimore protesters as being "thugs" and "vandals" — explicitly racialized terms — while painting white rioters at events like San Francisco's 2014 World Series win and other sporting events with far less demonizing language.
This response at a hip-hop festival is all too well-aligned with our country's recent past and deepest history. With every overblown police response to unrest in a black community, the police underscores its racialized enforcement tactics. For some reason rioters at a hip-hop concert or black teens at a pool party are more of a threat than white bikers armed with brass knuckles, knives, chains and handguns. Each incident only brings the lingering racial inequality in this country further into the limelight.
Updated June 8, 2015 at 1:31 p.m.