Chinese Testing Centers Deployed These Drones to Catch Students Cheating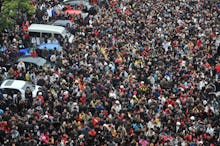 Chinese students have been caught using some seriously innovative technology to cheat on tests, including camera-equipped eyeglasses and pens that transmit photos outside the exam room and special in-ear monitors that receive the answers. 
So educators were ready for foul play during the country's largest and most important college-entrance test, known as "gaokao." They utilized silent, six-propeller drones to fly more than a thousand feet above testing sites in Luoyang, central China, scanning more than 300 miles for unusual radio signals.
The "gaokao" exam is notoriously brutal. It's a nine-hour exam used as the sole measure of a Chinese student's academic worth, making it the only thing standing between students and their future. 
Cases of stressed students taking their own lives influenced a Chinese school to install "anti-suicide" bars before exam time this year. In some cases, parents have even helped their children cheat, getting answers from teachers and finding ways to transmit them into the testing facility.
With these new drones, getting caught is now much easier. The drones transmit the detected signals to staffers with computer tablets, who then try to zero in on the culprit until they know which of the 9 million annual test-takers is trying to pull a fast one. If the student gets caught, the penalty is severe: The test can't be taken again for three years. So this year, either the scores will be more honest or the cheaters will have gotten even smarter.
h/t The Telegraph