These Are the 8 Major Ways Your iPhone Is About to Change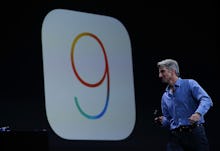 Apple held its yearly Worldwide Developers Conference Monday, teasing out future developments for its apps, programs and operating systems. (Apple fans have to wait until the fall for fancy new hardware updates.)
Among the biggest news of the conference was all of the upcoming updates to iOS, the mobile operating system that comes with the iPhone and iPad. The next version, iOS 9, is available to the public in July, and it'll have some significant features that change the way you use your smartphone. Here are the biggest updates.
1. Multitasking
Using only one app at a time is a thing of the past. In iOS 9, you'll be able to double-tap your home button, pull up a split screen and use two apps side-by-side.
And while watching video, if you need to take a notification, you'll be able to watch it picture-in-picture:
Considering that more people are using iPads and other tablets for serious work when paired with a small keyboard — and that there are rumors of a larger, 12-inch iPad on the way — multitasking makes iOS more viable as a replacement for a netbook or small laptop.
2. A smarter Siri, finally
Like many things Android managed to beat Apple to, the new iOS 9 now has a program called the Proactive Assistant. It's like a super-smart Siri, or Apple's version of Google Now.
In iOS 9, Proactive will do things like look into your email for invitations to events, put it into your calendar and tell you when to leave to make it there on time. It detects incoming calls from numbers you haven't saved, then checks it against your email inbox to see if it knows who's calling.
According to Apple, Siri's "word error rate" is only 5%, which we can hardly believe, because Siri never seems to understand what we're asking her, ever.
3. A new font for every Apple device
Apple's gone through a few favorite fonts in its nearly 40-year history: Apple Garamond, Myriad, Helvetica Neue. Now, a new shift is in the works: The new design appears to depart from Helvetica and embrace a new age of sans-serif fonts. Meet San Francisco:
Apple Watch wearers will recognize San Francisco as the typeface used on their wrists — the one in which that annoying Exercise app keeps pestering you to stand up. Apple developed San Francisco for the Apple Watch, but the font will also roll out to the new update to OS X and iOS 9.
Departing from Helvetica is a bold move. Helvetica is one of the most influential and important fonts of the 20th Century, and is the base for the iconic logos of American Apparel, Crate & Barrel, Staples, Jeep, Nestle, Toyota, BMW, Target, CVS and countless others. With San Francisco, Apple breaks away from the pack.
Apple didn't make explicit mention of the font change during the presentation, but the shift to San Francisco was long-rumored, and has been confirmed by a number of publications.
4. The Maps app will have public transit
If you live in a major metropolitan area, you're probably used to skipping past Apple's own Maps app and using Google Maps, which will tell you which trains and buses will get you to your destination. So far, Apple Maps is good for navigating roads, but it doesn't otherwise include public transportation.
Finally, Apple Maps will integrate a public transit feature that will allow you to get directions on trains and buses, just like in Google Maps. This is a particularly important move for Apple, whose mobile customers are more likely to live in metropolitan areas to begin with.
5. The Notes app might become a huge part of your life
Notes is one of those implicitly ugly and simple apps, useful primarily because everything you write in it syncs between your iPhone and your desktop or laptop. Now, notes can include checklists, sketches and better formatting tools.
Notes will actually be linkable, and you'll be able to pull them up seamlessly in multitask mode. It makes Notes an ideal location for to-do lists and small notebooks. It wasn't difficult to figure out whose business Apple is coming after with this new approach for notes:
6. A real News app
Apple's News app will replace the needless Newsstand app and act as a personal curator for daily stories, magazine content, slideshows, photo galleries and long-form journalism.
You choose your interests and favorite publications, and it builds you custom feeds. Apple has already teamed up with Condé Nast for its initial release, but it'll soon open up the platform for local newspapers, blogs and special interest publications.
Again, Apple was accused of cloning someone else's service:
7. Smarter texting
The new iOS 9 keyboard will have better editing tools, like cut/paste tools and smart formatting, like turning text bold and italicized in emails and notes where you can use a more sophisticated typeset.
Additionally, there's the ability to hold down two fingers and turn them into a trackpad, so that you can scroll across text without having to leave the home row of your keyboard.
8. An extra hour of battery life
Any improvement to battery life is always a welcome one. So in iOS 9, they've worked on the backend to make apps more efficient, adding a full hour of battery life back onto the device.