Take a Live Tour of a Mission to Mars Led by Matt Damon in 'The Martian' Trailer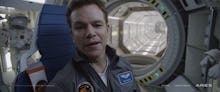 The first teaser trailer for director Ridley Scott's new movie The Martian isn't really a trailer at all. Instead of explaining the story, it follows star Matt Damon's character Mark Watney, an astronaut, giving what's basically a Periscope tour of his vessel and crew preparing for their excursion to Mars.
It's not meant to show off the movie — we'd be surprised if any of the footage wound up in the film itself — but to establish the movie's world. Viewers get to meet not only Watney, but the other characters, including Jessica Chastain's Melissa Lewis. Hilariously, the Periscope-like interface gives fun facts about the characters. Lewis is a big disco fan!
What could come off as goofy is actually quite charming. The tour gets you intrigued in what will happen to this crew on their excursion, but doesn't reveal any of the plot. For those who haven't read Andy Weir's originally self-published book of the same name, this trailer gives the chance to avoid spoilers.
The film's Twitter account also posted a more traditional trailer showing off the film's narrative: Watney is left behind on Mars after a mission goes wrong, and his crew sets out to save him once they realize he's alive again. The trailer is a bit less ambitious, with a more recognizable Hollywood narrative. While it showcases the star-studded cast well (Kristen Wiig! Jeff Daniels!), it's not as playful as Watney's tour.
Still, the marketing approach so far indicates that The Martian is going to be a cinematic event. It's got an Interstellar vibe, even featuring that movie's stars Damon and Chastain, but without Matthew McConaughey saying "Murph" every five seconds. If the film itself can measure up, we're in for quite a treat.
The Martian is set for theatrical release Nov. 25. Watch the full tour — er, teaser — below.