Chris Christie Vows to Take All Your Weed if Elected President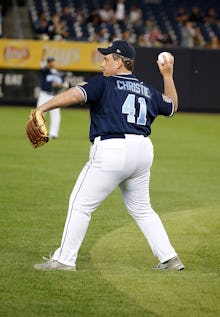 Chris Christie remains undecided about seeking the 2016 Republican presidential nomination, but the New Jersey governor is sure about one thing: Legalized marijuana would go up in smoke if he was elected.
In his most definitive comments to date, Christie vowed on CBS' Face the Nation Sunday to pursue a federal crackdown on the states where pot has been made available for recreational use.
"If you were president, would you return the federal prosecutions in the states like Colorado, Washington state?" host John Dickerson asked the governor, who answered, simply, "Yes."
"I think there's probably a lot of people in Colorado who are not too thrilled with what's going on there right now," Christie said. "You know the way you win any state? You go out and you tell people the truth and you lay out your ideas. And you either win or you lose."
If the latest polls are any indication, threatening to eliminate legal pot in Colorado — a key swing state in 2016 — seems to be a losing proposition. Marijuana sales and tax revenues in the state have consistently risen there, while the crime rate has gone down.
Standing out: While his likely Republican primary opponents have either gone silent on the issue or supported the states' rights to chart their own course, Christie, a former federal prosecutor, has taken a consistently harsh tone on the marijuana question, which is expected to pop up on a number of statewide ballots in November 2016.
In April, he told conservative radio Hugh Hewitt, "I will crack down and not permit it. Marijuana is a gateway drug. We have an enormous addiction problem in this country and we need to send very clear leadership from the White House on down through federal law enforcement."
Though medical marijuana is legal in Christie's New Jersey, the law was signed by his predecessor, Gov. Jon Corzine. Under Christie's watch, obtaining the drug for medical use has become almost impossible, effectively steering potential patients back toward traditional pharmaceutical options.
Last June, New Jersey's Star-Ledger reported that "some lawmakers, dispensary operators and patients blame the low enrollment on the program's strict rules, high costs, the small amount of doctors willing to recommend patients and Christie's lack of involvement in enhancing participation."
But why? Christie is in a tough spot heading into the 2016 race, which he is all but certain to enter in the coming weeks. The Republican field is crowded, meaning his relatively moderate views on social issues put him at a deficit with religious conservatives, while his economic policies — especially his anti-union efforts — are unremarkable alongside contenders like former Florida Gov. Jeb Bush or Wisconsin Gov. Scott Walker. 
Meanwhile, the political brand Christie built over the years in New Jersey, where he regularly cajoles critics and barks at schoolteachers, has become a liability. Questions about his temperament, especially over the long haul of a presidential campaign, have seen potential big money donors shift their support to the less excitable Bush.
In speaking out the loudest against the largely popular push to legalize marijuana via statewide votes — weed is still listed as a Schedule I drug by the federal Controlled Substances Act of 1970 — Christie is aiming to distinguish himself as a hard-nosed, principled alternative to other moderate favorites. How that message plays in more libertarian-friendly early voting states like Iowa and New Hampshire could make or break Christie's increasingly distant White House dreams.
You can watch Christie's full comments on Face the Nation here: