Michael Slager, Officer Involved in Walter Scott Death, Charged with Murder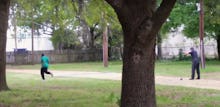 On Monday, Ninth Circuit Solicitor Scarlett Wilson announced North Charleston Police Officer Michael Slager has been officially indicted for the death of Walter Scott earlier this year. A Charleston County grand jury delivered their decision on the charge of murder for Slager's actions in early April that led to Scott death by gunshot.
"The prosecution work has just begun," Wilson said during a news conference, reports the Post and Courier. 
The case will eventually go to trial where a jury will decide Slager's fate, but Wilson knows there is still work to be done to secure a conviction. If convicted, Slager could face 30 years to life in prison without parole. 
"Just because you have video in a case doesn't mean it's the be-all, end-all and the case is over," Wilson said, according to the Post and Courier.
The New York Times first published the video in April, which a local resident captured. The New York Times reported:
The shooting unfolded after Officer Slager stopped the driver of a Mercedes-Benz with a broken taillight, according to police reports. Mr. Scott ran away, and Officer Slager chased him into a grassy lot that abuts a muffler shop. He fired his Taser, an electronic stun gun, but it did not stop Mr. Scott, according to police reports.
However, once the Scott family's lawyer shared the video of the incident, it became clear the truth was somewhat different.
Following the shooting, many took to Twitter to express their outrage and disbelief at the seemingly nonstop string of white police shooting black men, many for nonthreatening reasons. In the case of Scott, he was running away from the officer when Slager unholstered his gun and fired at Scott's back. 
Scott's mother, Judy Scott, also spoke out after her son's murder, saying on ABC's Good Morning America quite simply, "This has got to stop."
"When I looked at that tape," she said in the interview, "that was the most horrible thing I've ever seen. I almost couldn't look at it. To see my son running defenselessly being shot, it just tore my heart to pieces. And I just pray that this doesn't have to happen to another person. This has got to stop."
While a grand jury indictment is far from a full conviction, given how rarely police officers are charged and indicted in such cases, this is still an important step in the judicial process for both the Scott family and the rest of America.