9 Inspiring Transgender Women Who Also Deserve Their Own 'Vanity Fair' Covers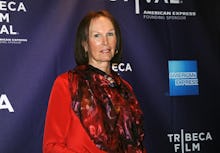 Bobby Bank/Getty Images
Caitlyn Jenner's debut on the cover of Vanity Fair magazine June 1 transfixed the media as pundits and commentators bent over backward to praise Jenner — and of course, to mansplain her newfound femininity. 
The stunning transformation of the 65-year-old Olympic decathlete-turned-reality TV star have made transgender issues a national conversation and brought visibility to a community that had historically struggled to find its voice in the larger struggle for LGBT equality. 
The fact is though, Jenner's road to Vanity Fair was one paved by the quieter accomplishment of dozens of other trailblazers and untold thousands of successful transgender individuals who lead ordinary lives all around America. 
Below are nine amazing trans women who never made the cover of Vanity Fair, but whose accomplishments are no less inspiring.
1. Renée Richards
As Jenner became an American legend at the 1976 Olympic Games, tennis player Richards was fighting for her ability to compete as a woman on the professional level. While at Yale University, Richards was considered a prominent college tennis player. After graduation, she went on to become a successful tennis player and ophthalmologist before later undergoing gender-confirmation procedures in 1975. 
Richards continued to play tennis, but ran into trouble when she attempted to play in the 1976 U.S. Women's Open and was initially denied entry for not being designated female at birth. "I made that decision to fight for my right to do it, mostly because I'd been told that I wouldn't have been allowed to do it," she told NPR in 2007. And fight she did. In 1977, the Supreme Court of the State of New York ruled in her favor and she competed that same year.
2.  Wendy Carlos
Anyone who's ever heard the iconic music from movies like A Clockwork Orange and Tron can thank transgender composer Wendy Carlos. Carlos was one of the earliest pioneers of synthesized music, and, in addition to her Hollywood credits, she won three Grammy Awards in 1969 for her electro-classical album Switched on Bach. Today, the stately septuagenarian could arguably be called the grandmother of techno.
3. Janet Mock
Mock defied the odds of a difficult childhood in Hawaii and ultimately worked her way up to a staff editor position at People magazine. In 2012, Mock received acclaim promoting the trans empowerment hashtag #GirlsLikeUs and has since become an activist, creating educational programming for New York's Harvey Milk High School, a high school for LGBT students. A host for MSNBC's Shift, her 2014 memoir, Redefining Realness: My Path to Womanhood, Identity, Love & So Much More, was a New York Times best-seller and winner of the 2015 Women's Way Book Prize. 
"I believe that telling our stories, first to ourselves and then to one another and the world, is a revolutionary act," she wrote. 
4. Althea Garrison
No list of powerful trans women would be complete without highlighting a political first. When Garrison was elected to the Massachusetts House of Representatives in 1992, she became the first known transgender woman to be elected to statewide office in the United States. 
Garrison only served one term, largely because of an ugly smear campaign against her by a transphobic Boston Herald reporter, who later went on to become a chief aide to 2012 presidential candidate Mitt Romney. Nevertheless, Garrison's example proved that trans people could govern and wrote a new chapter in the struggle for LGBT equality. 
5. Theresa Sparks 
Sparks showed that a transgender woman's place could be anywhere, even at the apex of big city law enforcement. When she was elected president of the San Francisco Police Commission she became the first transgender woman to hold that position in the city and one of the highest trans women in law enforcement in the United States. 
In 2013, she was the first transgender individual in the state to be named "Woman of the Year" by the California Assembly. Sparks' son Adam told NPR, "To be successful in one life is hard enough. To be successful in two is certainly harder. My dad is very driven in whatever world she is in at the time. Hidden or not, she'll get it done."
6. Pauline Park
After settling in New York City, the first-generation Korean immigrant dedicated her life to trans activism. Among her numerous accomplishments are the founding of the New York Association for Gender Rights Advocacy and helping the city pass a transgender rights bill. The classical pianist and self-professed Tolkien nerd who holds a doctorate in political science also claimed her own slice of LGBT history when she became the first transgender person to serve as a grand marshal of New York City's annual LGBT pride parade in 2005. 
As an activist, Park knows that achieving equality under the law is only the beginning of the struggle, telling blogger Brianna Austin: 
"We certainly need to attain full equality under law, but we also need to understand that obtaining juridical rights will not eliminate transgenderphobia, no more than gay rights laws have eliminated homophobia or civil rights laws prohibiting discrimination based on race have eliminated racism."
7. Marci Bowers
Not too long ago, those seeking gender-affirming surgery had no choice but to seek care from a physician who could not possibly relate to what they were going through. That all changed with Bowers, the first transgender woman to perform gender reassignment surgery. Since taking over from her mentor Stanley Biber, Bowers maintained a breakneck pace, at one point doing an average of five procedures a week. 
On top of that, Bowers is one of the few surgeons in the world able to perform genital mutilation reversal surgery, which she offers to victims at no charge. "I think the most rewarding part about surgery is when you can say to someone, 'Now you are a complete man,' or, 'You're a complete woman,'" she told Oprah Winfrey in 2007. 
8. Eli Erlick
Like so much of the larger LGBT movement, many of the most passionate transgender advocates in the trenches are millennials. Erlick speaks for them. The 19-year-old California activist is a founder of Trans Student Educational Resources. According to the group's website, TSER is "dedicated to transforming the educational environment for trans and gender nonconforming students through advocacy and empowerment." Erlick is presently a student at Pitzer College.
9. Kristin Beck
The ex-Navy SEAL spent years in some of the world's most hostile locations, including, Iraq, Afghanistan and Bosnia. In her 2013 memoir, Warrior Princess: A U.S. Navy SEAL's Journey to Coming out Transgender, Beck wrote about the deep camaraderie she formed with her fellow SEALs and her fear of coming out while an active service member. 
She told CNN: "I gave true brotherhood. I did my best, 150% all the time, and I gave strength and honor and my full brotherhood to every military person I ever worked with." Today, Beck refuses to be defined by her gender and says she's 100% comfortable in her own skin.