The Government Just Took a Huge Step on Student Debt Forgiveness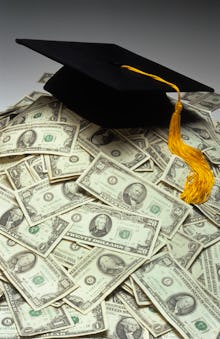 On Monday, the Department of Education made an extraordinary announcement: It's creating a new system for debt relief for students who have been the victims of abuse and fraud.
The new process is largely a response to the crisis born out of the historic collapse of Corinthian Colleges, Inc., the colossal for-profit network of colleges that filed for bankruptcy in May after years of state and federal investigations found that it was engaged in a host of predatory and deceptive practices. That disintegration in turn produced a movement among scores of its former students who refused to pay back their loans, protesting the idea that they should be saddled with debt for a dubious degree.
"While some for-profit career colleges play a critical role in helping students succeed in their educational and training pursuits, too often, bad actors in the sector have preyed on some of our nation's most vulnerable students and taken advantage of hard-working Americans who simply want a better future for themselves and their families," Secretary of Education Arne Duncan said in a statement. "Where students have been harmed by fraudulent practices, I am fully committed to making sure students receive every penny of relief they are entitled to under law."
While under current law students have 120 days to file for a discharge of their federal loans if their school closes, the Department of Education has expanded that window to a year for Corinthian students. Anybody who attended a shuttered Corinthian school since June 20 of last year — which is when the slow process of dismantling Corinthian Colleges began — is eligible to have their loans forgiven, according to the Education Department. The department estimates that about 15,000 borrowers are eligible for relief based on school closure, according to Education Department press secretary Dorie Turner Nolt.
The new process: Most campuses in the Corinthian Colleges network weren't shut down in the past year — they were sold, in an attempt to maintain some stability in students' lives. This is where a new precedent is being set. Borrowers who want their federal student loans discharged because they believe they were defrauded by their schools can file for relief under a legal rule called "borrower defense to repayment." Borrower defense is a process that requires students to explain how they've been injured by a college's criminal behavior.
In order to make the process more efficient for the government and less imposing for Corinthian students, the Education Department is trying to group together specific cases. 
"We will, going forward, look for ways to find commonalities between claims so we can look at them together," Duncan said on a call with reporters on Monday. 
So far the only such group that has been established is a group of about 80% of the students who attended Heald College (one of the colleges in the Corinthian network, which also includes WyoTech and Everest), who make up an estimated 50,000 of the 350,000 students who have borrowed federal loans to attend a Corinthian school since 2010, according to Nolt. Because that cohort has been thoroughly established as the victim of fraud, their borrower defense process should be streamlined, and they will only have to fill out a straightforward form "based on a simple attestation that they relied on those fraudulent rates," according to the Department of Education.
Does it do enough? The fate of the hundreds of thousands of Corinthian students who aren't part of that cohort is still unclear. Borrower defense currently places a significant burden on former students to explain how they were wronged — and in the case that a borrower doesn't end up placed into the kind of bucket that the aforementioned Heald cohort was, it's not yet known what kind of burden of evidence and knowledge of law may be needed to make the case for an individual student. This is exactly the concern the Corinthian student debt strike movement has expressed concern over for months, and the basis for their demand that Corinthian students receive class-wide discharge.
"The department's 'solution' is a bureaucratically tortured process designed to provide relief only to those who hear about it and can figure out how to navigate unnecessary red tape," said Laura Hanna, co-founder of the Debt Collective, the group organizing the Corinthian student debt strike, in a statement to reporters. "Automatic, class-wide discharges are not only just, they would also serve as a corrective for the department's flagrant failures to allocate public funds wisely." 
The borrower defense process is not only far more complicated than a class-wide discharge. It also has the drawback of being the kind of process that many students — many of whom are not particularly financially literate and are already busy with low-paying jobs — will likely not even know they're eligible for. (Consider that most people defaulting on their student loans don't know they are eligible for an income-based repayment plan that would take them out of default.)
The new policy created by Department of Education sets an important precedent, and it is not limited to Corinthian students — it applies to students at all public, private and for-profit schools across the country. But in a situation in which the school systematically engages in blatant fraud — as was the case with Corinthian — the individualized process is sure to be tedious and carry a number of potential pitfalls that could leave many exploited students in debt. For this reason, the Corinthian debt strikers will likely keep agitating for more comprehensive relief, and could continue striking.