The Weeknd Just Released an Amazing New Song at Apple's WWDC Event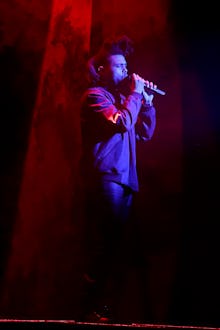 After nearly two-and-a-half hours of tedious jokes and awkward presentations at Apple's Worldwide Developers Conference, the company attempted redemption. This time, rather than revealing that they'd given everyone a new U2 album, the company let the Weeknd take the stage to premiere a brand new song. 
Entitled "Can't Feel My Face," the song is a moody R&B jam with a deep groove and a catchy hook. It's likely going to be a massive hit.
The Weeknd has enjoyed pop success on the charts before with hits such as "Earned It," which currently sits at No. 3 on the Billboard Hot 100, "The Hills," currently at No. 20 and rising. "Can't Feel My Face" also has the benefit of being produced by Max Martin, the hitmaker behind Katy Perry, Ariana Grande and Taylor Swift's biggest hits from the past few years, as well as those of N'Sync, Maroon 5 and P!nk from years past. 
The song was actually released a few weeks ago at the end of May but was quickly taken down, likely to save for WWDC. With this prominent release and its danceable simplicity, the song is a perfect second single for the Weeknd's second studio album, Chapter III, due out later this year. This might be the summer of Weeknd.