Spotify's Founder Just Said What Everyone Is Thinking About Apple Music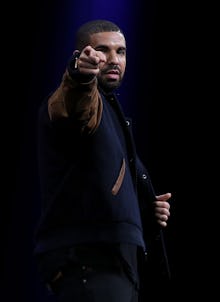 Two long hours into Apple's 26th annual Worldwide Developers Conference on Monday afternoon, Tim Cook announced that he had "one last thing." "Today we're announcing Apple Music, the next chapter of music," the Apple CEO told the audience. "It will change the way that you experience music forever."
That's a bit of an overstatement. Fittingly, Spotify co-founder Daniel Ek summed up a suitable response when he Tweeted (then quickly deleted):
The announcement: Apple Music, which rolls out on June 30, will offer a streaming service culled from the music in the iTunes catalogue. Like Spotify, the service is $9.99 a month with a $14.99 a month family plan, but unlike Spotify, Apple will not offer a free tier. Apple Music will also feature tens of thousands of music videos streaming in HD — again, nice, but not so revolutionary.
Apple announced that it would launch Beats 1, a 24/7, worldwide, live radio station broadcast out of New York, Los Angeles and London, headed up by former BBC VJ Zane Lowe. Apple is promoting the station as "Music without any restrictions," and Lowe notably said the station would feature "the music we love," as opposed, we suppose, to "the music you love." The announcement felt a bit like Apple was saying that music lovers don't know what's good for them or where to find it. Many find the music they love on Spotify, a company whose algorithmic music suggestions were attacked implicitly onstage today.
The third branch of Apple Music is Connect, which is basically a social media feed that encourages musicians to communicate with fans. Drake made an appearance to debut Connect, giving a mostly obtuse inspirational speech about how he started from the bottom, now he's here. And at the end of it all, the Weeknd came onstage to perform a new single, "Can't Feel My Face," that's sure to be blasting across the Beats 1 station come midsummer. 
Apple's advantage: The service doesn't offer much that isn't already out there, but what they do have is a user base. Just as they could give U2 to half a billion people, so too can they include the Apple Music functionality in every Apple iOS device. Apple has something like 800 million credit cards on file, meaning new subscribers are just a few clicks away from signing up for their new streaming service. Though Apple is giving the service away for free for the first three months, the AP reported before the announcement that a source said Apple intends to target 100 million paid subscribers. Meanwhile, all of the other top streaming services combined have a total of roughly 41 million paid subscribers.
Their strategy is, in part, to undermine Spotify. In early May, the Verge reported that Apple had its sights on working behind-the-scenes to remove Spotify's freemium service. They wrote, "Apple has been pushing major music labels to force streaming services like Spotify to abandon their free tiers, which will dramatically reduce the competition for Apple's upcoming offering." Whether that will actually happen remains to be seen, but judging from Ek's tweet, there's plenty of bad blood between the companies already.
The rising tide of streaming: In 1998, Apple revolutionized the music industry when it introduced iTunes, which for the first time gave music consumers the option to purchase unbundled records one single at a time. It was an attempt on Apple's part to stymie the growth of online piracy, and it turned the tech company into the largest music retailer in the world.
But since then, Spotify, Pandora and YouTube have positioned streaming music to become more profitable than music downloads. That's why Apple inserted themselves into the music streaming game — even though downloads are the majority of its music revenue, streaming is its future. That's why it acquired Beats for $3 billion in August and onboarded Beats co-founders Jimmy Iovine and Dr. Dre. Apple's move into the streaming market makes it official that this is the future of music consumption — good news for every streaming service.
"Spotify has never really advertised because it's never been profitable," Sony Music CEO Doug Morris said of Apple's launch at Cannes on Sunday. "My guess is that Apple will promote this like crazy and I think that will have a halo effect on the streaming business. ... A rising tide will lift all boats. ... It's the beginning of an amazing moment for our industry."
The competition: Even if Apple is the biggest competitor, it still looks far from the best. Spotify has 60 million users, a quarter of whom opt for the paid service over the free tier. And Spotify is more than just a music-streaming service: In late May, the company introduced a slew of new features, including podcasts, original video, TV shows, a jogging aid, talk radio and new discovery tools. For just $10 a month, that's a lot to offer — and that free tier is a strong point of entry, even if it isn't an iPhone.
Tidal, which is essentially a slightly higher quality and more expensive version of Spotify, stands to benefit even as it flounders. TechCrunch sees Apple Music as "throwing a lifeline" to Tidal.  
"The launch of Apple's own streaming service will, perversely, increase the valuation of Tidal," Mike Butcher wrote at TechCrunch. "Apple's streaming is good for Tidal because it will promote the whole idea [of paid streaming] to a much wider mainstream user base."
And that seems to be the key takeaway from the launch of Apple Music: Streaming is the future of music. Whether Apple will, in the end, reach its wildly hopeful 100 million users is beside the point. The future is here — this time, though, Apple didn't build it.