Meet the Women Who Risk It All to Sell Fantasies on the Etsy of Sex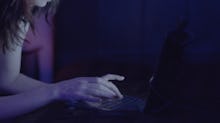 At this moment, a pair of Angie's dirty underwear is soaring across America.
Whoever bought the garment is a complete stranger, and he paid about $25 for it. So did the guy who bought her last pair. And the guy before that. Angie, like the countless other panty-sellers making a living online, considers herself a sex worker. Well, sort of. She doesn't meet you at a hotel. You'll never see her in real life. But she sells everything else — every fetishized object you could possibly imagine, and a few you'd never guess.
About as deep into the adult Reddit universe as you can get without seeing pictures of animals humping, there's a marketplace that dabbles in all manner of perversions. Dirty panties, custom nude photo sets, virtual domination services and live cam shows: On /r/sexsells, the legal red-light district of the digital age, you'll find it all.
Fetish on demand: Sex Sells, and the many subreddits like it, play an Etsy-like role in Reddit's burgeoning sex-work community. Buyers can browse pages of ads from people you might call independent contractors — occasional cam girls who go the extra mile and sell the used clothing you might see in their videos, then let buyers call the shots on what they wear — and take off — in private videos.
In the last week alone, one marketplace gained 400 listings. Scores of women posted ads for used panties, custom videos whose scope is limited only by the buyer's budget and personalized sexts on the messaging apps Snapchat and Kik. By setting price tags that range from $5 to hundreds, the ladies are raking it in.
Reddit, the Wild West of the Internet, isn't a friendly place for every visitor. A large and vocal faction of Reddit recently responded to a new rule to curb harassment by launching a vicious, misogynist, Nazi-themed campaign against the site's CEO, Ellen Pao. This is why the NSFW communities where Angie's peers conduct business — /r/fetishitems, /r/pantyselling — have strict sets of guidelines that might seem out of place on the social news site.
"My husband and I created /r/sexsells because we are both sellers ourselves," subreddit moderator Ivy told Mic. "Other selling subreddits and sites didn't treat sellers well and often had unfair practices that put sellers at a disadvantage. We wanted a place where everyone was welcome and treated well regardless of their sex, gender, race, kink or fetish. We wanted things to be fair to sellers and buyers alike and to create a community that was as safe as possible for everyone."
On Sex Sells, which boasts about 8,000 subscribers, Ivy and her husband put sellers through a verification process to bring down the risk of scams and problems with blackmailing and stalking. 
"We currently have 45 Trusted Sellers," Ivy said, "which means that they have gone though our regular verification process, have submitted extra verification, have had at least 30 days of active selling activity and have had proven sales where the buyer was happy."
Ivy and her team are bulldogs about protecting their own. When word of a journalist lurking on the sub came to light, her husband posted a warning to sellers and buyers urging the community not to trust anyone who popped up asking questions. They published a post and pinned it to the top of the subreddit so every visitor would read it, telling them not to speak to Mic or anyone else.
"There have been a flurry of interview accounts messaging buyers, sellers and mods to do interviews for articles and publications, but we have no reason to believe any of these accounts are real. ... These are people just looking to waste your time and press you for details that you may not wish to share. [D]O NOT GIVE THESE PEOPLE ANY OF YOUR INFORMATION."
The saleswomen of Sex Sells spoke with Mic only on the condition of anonymity. One seller, whom we'll call Angie, has the entrepreneurial spirit of someone who could pull Mark Cuban's bid on Shark Tank — if there were a Shark Tank for dirty panties and penis reviews.
In the blizzard of Reddit's fetish vendors, Angie's just one snowflake. No matter the item — locks of hair, period-stained clothes — there are copycat sellers in triplicate. "There's nothing unique about what I do," another woman, Donna, told Mic. "If you look at /r/sexsells, /r/fetishitems, /r/pantyselling, etc., you can find tons of other girls that do the exact same thing."
The surprising secret to Angie's success: It's not the sex itself. On Reddit, high-quality GIFs of your favorite NSFW positions are a click away. Sex Sells is about intimacy and attention: the part of sex that porn doesn't offer. It capitalizes on human desire for contact in a place where it's scarce. This is sex work revitalized for the digital age and a new generation of voyeurs. 
Angie told Mic she's had "great success with custom videos recently. They're super-profitable, I think, because of the personal nature that can't be beat by free porn." What else is popular? "Cock ratings for $10, a new trend on the subreddit," she said. Personalized dick pic critiques are "not as profitable, but a ton of customers are interested in them and even collect different sellers' ratings."
In an environment that values fetishes and anything exotic, Angie found her own angle. "My race is my niche for the most part, as an Asian seller," she told Mic. And her repertoire is all over the map. She sells used underwear, custom videos, intimate Snapchats, one-on-one cam shows and "pussy pops," or candy that's been, er, intimately coated. "The list goes on and on."
Angie calls herself an average online sex worker. An on-again, off-again student in her early 20s, she wants to keep her identity hidden from friends and family. 
"I really wish I could focus everything on sex work because it's been amazing to be my own boss and it's definitely the best job I've ever had," she told Mic. "Among the sellers I've gotten to know, there's been future scientists, teachers, you name it. It's a weird crew. Slowly, I think, online sex work is making it obvious how many women would love to have a career indulging their sexuality safely from their own home."
But safety can be a major issue. Because of her work, Ivy has encountered death threats, blackmail and the release of her (and her sellers') personal information, what's known as doxxing. "We've had sellers and buyers outed, people who've had to change accounts, people who have had to stop selling/buying because their accounts were compromised and people who have had to involve authorities and legal teams," Ivy told Mic. 
While sex work is still criminalized, its sellers are relegated to the dark outposts of the digital universe, where unsavory clients moderate the forums and self-employed workers walk on eggshells just to keep their business afloat. But in a place where anonymity can be maintained, Ivy, Angie, Donna and other women can stay safe in a volatile industry without putting themselves at the mercy of people who recognize them. Until the laws surrounding sex work change, communities like Sex Sells are the last bastion of defense against the Internet's faceless antagonists.