These Are the 6 Apps That Should Be Very Afraid of Apple Right Now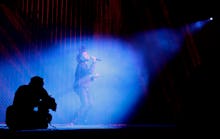 At Apple's annual developers' conference Monday, company executives announced new features for iOS, OS X and the Apple Watch operating system. 
If features such as the iPad's new split screen or Safari's new pinned tabs gave you a little déjà vu, you're not alone. Many updates to Apple services were designed to either simulate or clone the features of existing apps, products and services, such as Windows 8 or Google Chrome's advanced browsing options. As Steve Jobs once said, "We have always been shameless about stealing great ideas."
Everyone noticed, pointing out that Apple is clearly coming for the thrones of a whole variety of services:
It's far too soon to declare a swift death for each of these startups. Apple's got a tough fight to enter any of these spaces, where the incumbents have years of market dominance. Still, the shots have been fired — and here's what's in the crosshairs.
1. Evernote
The last thing anyone was asking for from Apple was an improvement to Notes. But that's because nobody thinks of Notes as anything but a very basic place to throw scraps of text and links. With Apple's new update, the Notes app is a whole new animal. Notes can have formatting, checklists, photos and links, and they sync across all of your devices.
Sound familiar? Evernote does all of this and more: It adds notebooks, Web clipping, file scanning and a premium subscription service. Thanks to the updated Notes, Evernote could lose some of Evernote's unpaid, casual customers — light users who just want a better way to keep track of information. 
2. Spotify
The most anticipated announcement was for Apple Music, Apple's new subscription plan for unlimited music, priced at $9.99. There are a host of services that offer similar models, but the most obvious comparison is Spotify.
There are some other features to set Apple Music apart, like a social media tie-in, but otherwise Apple and Spotify are incredibly similar — they both offer radio services on top of unlimited streaming. So how will Apple get people to switch over? By offering the first three months of Apple Music free.
Apple Music also offers a family plan of up to six family members using your Spotify account — even though we all know that "family" could be your roommate, her boyfriend and his two buddies. Apple's family plan for six costs $15. For five people, Spotify charges $30.
As reported by the Verge, however, executives of streaming music services feel confident Apple Music won't be much of a threat. What did the CEO of Spotify have to say about all this? Nothing but shade:
3. Flipboard
Flipboard is the cleanest-looking way to get an algorithmically curated news feed delivered daily to your mobile device in a digital magazine format. Now Apple has its own version to replace its confusing Newsstand app. It's called, simply, "News."
Enter your interests into News, along with some of your favorite publications, and it does exactly what Flipboard does — it builds you a sleek and responsive digital magazine.
But does a direct clone mean certain death for Flipboard? We'll have to wait for the dozens of side-by-side comparison reviews to know.
4. Facebook's Instant Articles
Last month, Facebook said it would become a home for a new kind of content called the "Instant Article," a story published directly to Facebook. It bragged about high-profile partners such as National Geographic, BuzzFeed and the New York Times.
Apple's News app will work the same way, and Apple has signed on a few big names of its own:
Facebook has a major head start, of course: News on Facebook brings value to millions of users who depend on the platform to know what's going on in the world. Without trending topics, your News Feed is just a stream of engagement photos.
5. Google Maps
Apple Maps is finally useful for anyone who lives in a major city — a huge demographic for iPhone users. Until this latest update, Maps had no public transit directions, leaving Google Maps and other transit apps to dominate the navigation market.
Coming to iOS 9, Maps will be able to route buses and trains as a third navigation option:
It's a minor addition, but it could be enough to get iPhone users to stop downloading a third-party app like KickMap or CityMapper — or just to take Google Maps off their home screens.
6. Pebble Time
Pebble, the smartwatch company that launched from a blockbuster $10 million Kickstarter campaign, just released its newest model: Pebble Time, which has the ability to scroll forward and backward through digital time to show you past notifications and upcoming events, depending on what time and day you choose.
A suite of minor features will roll out on the new Apple Watch OS in a few months, and one of them does exactly what Pebble Time can do: Browse forward and backward in time using the digital crown, viewing appointments from that past and future to give you a better idea of your schedule.