5 Things You Didn't Know About Cookie Lyon of 'Empire'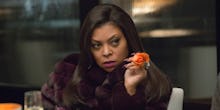 Summer TV is a wasteland for so many reasons, but chief among them may be our screens' lack of Taraji P. Henson. We got addicted to Cookie Lyon last season on Empire, and now we're going through withdrawals. Judging by the talk at last Saturday's Empire panel at the ATX Television Festival, we're not the only ones.
Television's greatest "ride-or-die" character, as Empire writer Wendy Calhoun described her, was naturally one of the biggest topics. Everything from her quotability to her origins were discussed. Here are five things we learned about Cookie at the festival.
1. Cookie's iconic catchphrase was a Henson ad lib.
"Boo-boo kitty," Cookie's name for romantic rival Anika (Grace Gealey), was the product of Henson trying to fix a bit of creator Danny Strong's dialogue that wasn't working. He had written a line over and over again, trying to come up with something shady for Cookie to call Anika, and everything he came up with was "fine" at best, as he put it.
Then Henson took control.
"She just walked up there, first take, and said, 'Mmm, mmm, mmm, boo-boo kitty.'" Strong said. "It was the most genius thing I've ever seen in my life. We ended up writing 'boo-boo kitty' into the script over and over again. We all loved it, and then it became famous."
"I think Grace gets called 'boo-boo kitty' all the time," Calhoun added with a laugh.
2. She flipped from being the antagonist to the protagonist.
"She feels like the villain," Calhoun said of writing Cookie. But what blew away the writers was how quickly she flipped from being the antagonist to the protagonist.
"When we wrote the first draft, she really popped off the page. Because she was driving the action, and she was this underdog who wants her children back," Strong said. "She's been in prison for 17 years, and she just wants her children back."
It was easy to sympathize with Cookie, especially considering her skill. "Then you throw on top of it that she's a genius at what she does musically, and you've got a pretty good character," Strong added. 
3. She derives from other strong women on TV — and Archie Bunker.
Calhoun said she considers Cookie "the black version" of many of the other great women she wrote for, including Nashville's Rayna James and the lead characters on Revenge. "That was the new flavor I really hadn't had the chance to explore," Calhoun said. 
She also thinks Cookie's got an Archie Bunker quality about her. Like the All in the Family patriarch, she isn't afraid to say what's on her mind, no matter how offensive it may be. "She'd say what you'd never allow yourself to say," Calhoun said. "All kinds of prejudices, she's just out with it."
4. Danny Strong, on the other hand, thought of her as "Mama Rose on crack."
"Lee screamed, 'Yes, dahling!'" at the idea of Cookie as the Gypsy mother, Strong recalled. "She is the ultimate hustler. She was gonna basically be the one person that our 'Jay Z-Puffy' character would be afraid of. He's the king of the world, and the only one who can get in his way is his ex-wife."
Cookie's in good company: Mama Rose has been played by legends like Ethel Merman, Angela Lansbury, Bernadette Peters and Patti LuPone. Henson's performance easily belongs beside those giants.
5. She'd have a crazy impact in Stars Hollow.
In a funny moment, at the Gilmore Girls reunion panel, Strong (who played Yale student Doyle for four seasons) was asked about a Cookie crossover onto the beloved show.
"If Cookie wandered into Stars Hollow, she would just mess up shit for everyone," Strong said with a chuckle. "She would storm into rooms she's not supposed to. It'd be pretty crazy."